In the early 1990s, retail banks began expanding beyond the marble walls and bank teller windows of the "traditional bank." In addition to offering online banking services and after-hours ATM access, they also began building small satellite branches in large grocery stores. These "supermarket banks"–often referred to as "in-stores" within the industry–are convenient for customers and can be quite lucrative for the bank as a corporate entity, but they're increasingly at risk of armed robbery. According to the American Bankers Association, branches located within grocery stores are now among the locations most likely to be robbed.
Because they're intended to be low-cost, high-margin operations, in-store banks have a small footprint and lower security standards than stand-alone banks. They are often staffed by just two employees at any given time, and rarely have bank teller windows or other bullet proof barriers between the staff and the general public. These supermarket banks tend to keep late-night weekday and extended weekend hours, exposing them to both the peak period for bank hold-ups (8am to 11pm) and the increased robbery risk associated with operating after dark. An analysis by the Center for Problem-Oriented Policing found that these expanded hours alone increase an in-store bank's risk of robbery by roughly 25 percent.

When they were first conceived, in-store supermarket banks were thought to be among the safest locations–who would want to try and rob a bank with so many witnesses milling around grocery shopping? But as banks have opened more of these ultra-convenient locations, and ballistic bank teller windows have become commonplace at stand-alone banks in urban centers, supermarket mini-bank branches have increasingly found themselves under attack.
According to Total Security Solutions vice president Jim Richards, bullet proof bank teller windows are a cost-effective preventative measure for these small locations. Recent FBI statistics indicate that upwards of 97 percent of all banks robbed in 2011 had functional (and often quite conspicuous) alarm and surveillance systems; these are clearly poor deterrents. Meanwhile, only 15 percent of the banks robbed in 2011 had bullet proof bank teller windows. Bandits clearly favor targets lacking bank teller windows and other ballistic security measures–which are strongly endorsed by the American Bankers Association for high-risk branches.
The only better deterrent, according to FBI statistics, is a full-time guard–just 5 percent of victimized institutions had guards. When keeping costs low is a high priority, hiring a full-time guard isn't likely to be an option. But single-piece, drop in ballistic bank teller windows can be purchased and installed for under $1000 each–and will serve for years without a vacation day or missed shift. Even a complete custom ballistic system for one of these 400- to 600-square-foot mini-banks could be had for a fraction of a guard's annual salary and benefits.
Read more about Bank Security and Bullet Resistant Glass: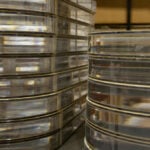 Although people flip-flop interchangeably between the phrases "bulletproof glass" and "bullet-resistant glass," they tend to be talking about the same thing: Bullet-resistant windows are primarily made of extremely durable, optically clear plastic. In the security industry, we say "bullet-resistant," because there really is no such thing as truly "bulletproof" window …