Security for Lobbies and Reception Areas
It's more important than ever to ensure the safety of employees working in high-traffic areas within buildings. Fortunately, a secure reception area can be customized to offer the best possible security while still creating a warm and welcoming environment. You need this space to reflect your business's aesthetic preferences and functional requirements plus operate as your first line of defense against potential violence or theft. Customized solutions can help you make your reception area secure while maintaining a modern, inviting look for everyone who enters your building.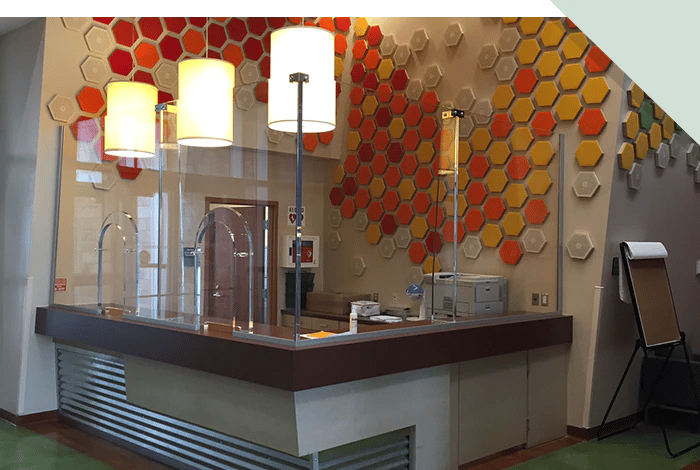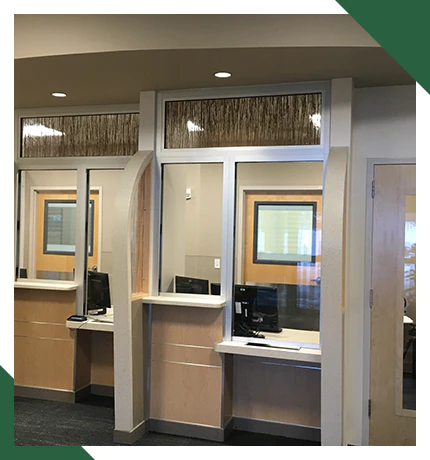 Secure Your Lobby With Bulletproof Products
What a completely secure reception area should look like depends on your business, your threat level, and your operational needs. While secure entryways and vestibules may work great for companies that admit employees and guests one at a time, larger office buildings, municipal centers, and medical facilities may rely on reception desks and spacious lobbies to accommodate the flow of people throughout the day.
Our custom reception solutions can include freestanding ballistic desks, counters, and windows, along with accessories that help you perform important daily functions. When you work with our custom designs team to upgrade your lobby security, you'll receive answers to questions like:
How will each employee who works in this area be protected in the case of an attack or attempted theft?


What solutions will help employees safely complete essential tasks each day while maintaining a culture of safety at work?


Which barriers and additional safety measures will work best together to prevent harm during a potential attempted attack?
Successful Entrance Security Projects
Take a look at these projects that included bulletproof security for entryways, lobbies, and front desks.
This municipal office needed their lobby retrofitted with modernized, effective bulletproof security to protect front desk employees. Watch to hear how the TSS team designed and retrofitted a new ballistic barrier system in this space, including transaction windows with ideal voice transmission.
See how TSS was able to create custom windows and package passers for this snack food company's lobby area, solving their security issues and creating a safer environment for their employees and customers.
Need help finding the right solution
for your project?
Get free advice from our ballistic experts.