Ballistic Wood Doors
Our wood security doors are designed using a wood core with a plastic laminate or wood veneer finish over bulletproof fiberglass. Our doors can be flat or raised panel and have half, full or divided glass panes. Designed to defeat ballistic assaults and complement your workplace aesthetics, these doors are a popular choice for facilities looking to create a warm, but secure, atmosphere and utilize wood as a design element throughout their building. Easily integrated into a new build or retrofitted to fit your current space, our wooden doors fit seamlessly into any comprehensive barrier system.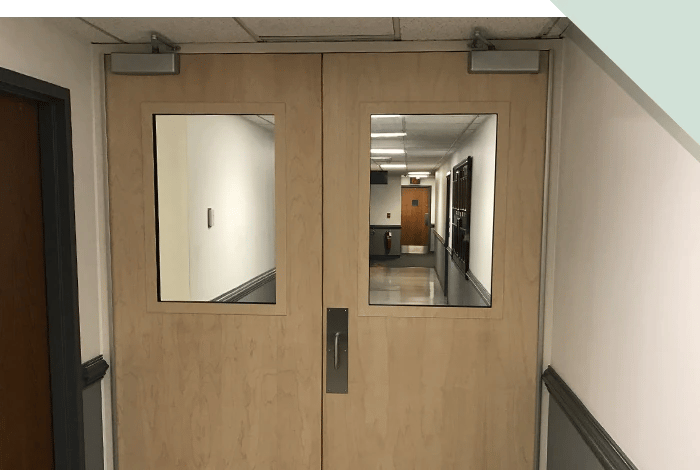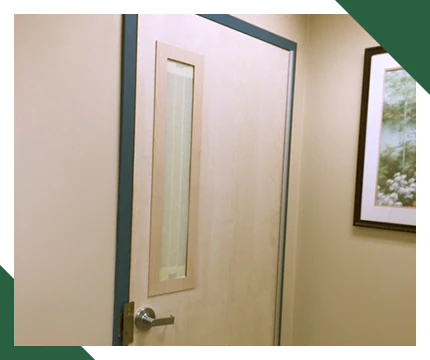 Commercial Wood Doors With Glass
These bullet-resistant doors can be fabricated with or without a glass view lite to allow for varying levels of visibility and light transmission. Additionally, custom-designed wood muntins (a bar or rigid supporting strip between adjacent panes of glass) can be incorporated into your design to give an ornate, divided lite appearance. Standard doors come in sizes 3/0 x 7/0, 3/0 x 8/0 and 6/0 x 7/0, with double doors and additional custom sizes available upon request.


Hardware
Typical door hardware options include a heavy-duty continuous hinge, overhead surface closer, lockset, and an anti-jimmy plate as needed.
Bulletproof protection
Our wood doors are tested according to UL Levels 1-8 standards and maintain their ballistic integrity with or without a view lite. Which level of protection you need will depend upon your functional requirements and threat level.
View detailed information on our product specifications page.
Transaction Accessories
In some cases, your business may require customer interactions, conversations, or transactions to take place at an entryway. To eliminate the risk involved in frequently opening and closing a door, we can incorporate transaction windows into a large door lite within your wood door. View all transaction window opens.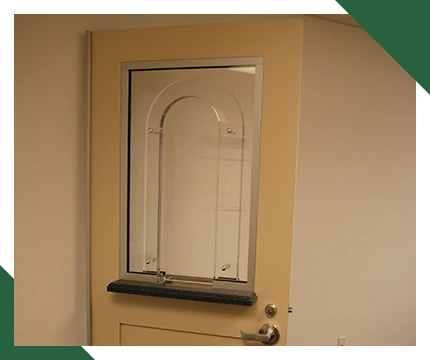 Need help finding the right solution
for your project?
Get free advice from our ballistic experts.