Custom Guard Booths
A ballistic booth is the only way to ensure that your security team is kept safe during a violent attack and able to perform their protective duties at the highest level. By drawing on our decades of experience creating custom bulletproof barrier systems, we'll work with you to design a booth that increases security guards' ability to remain out of harm's way and matches your building's aesthetics.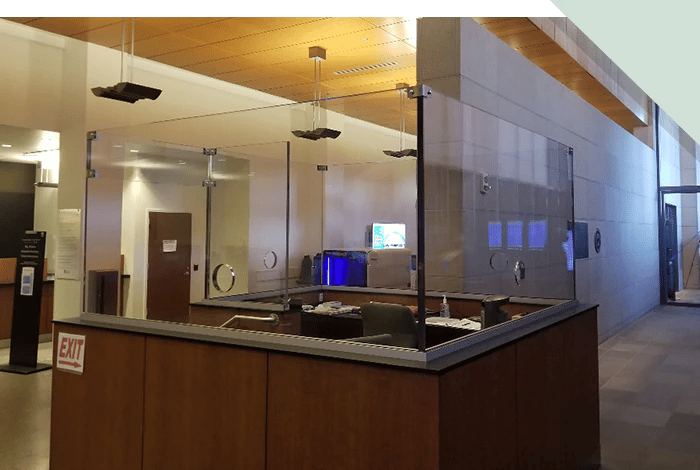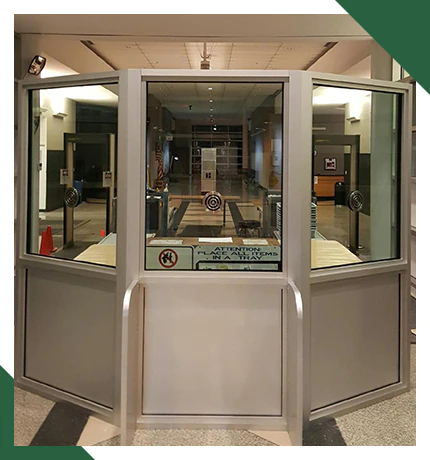 Why install a bulletproof security booth?
Security guards are the frontline personnel for many comprehensive safety plans, and they often face the highest level of risk of any of your employees. Keeping them safe helps keep your entire team safe, and a personalized guard booth will help you address their safety needs with bulletproof protection. By incorporating features such as transaction windows, voice transmission speakers, and deal trays in your security booth, you can set up your team for success by providing all of the tools they need to perform daily duties.


What does a custom guard booth look like?
The function and appearance of your guard booth will depend upon your business and your threat level. A few things we'll take into consideration as we help you design an ideal solution are:
What tasks does your security team need to be able to accomplish? (For example, do they exchange cash or documents with visitors?)


What are your unique risk factors, and which type of bulletproof glass will be most appropriate for your booth?


What size and style of booth will best serve your team? How many people will need to operate within the structure at one time?


How will a ballistic guard booth fit into your comprehensive safety plan? Are you replacing an existing structure, or will this new booth fill a gap in your current system?
We'll walk you through our proven process to guarantee a fully customized, secure solution that addresses your top concerns when designing your guard booth. If you're considering incorporating a ballistic booth into your business but still have a few questions, don't hesitate to reach out and speak with a TSS bulletproof expert today.
Need help finding the right solution
for your project?
Get free advice from our ballistic experts.