Reach Guards for Desks and Counters
Formerly named VirusGuards, our reach guards help you deter visitors from accessing certain secure areas in your workspace. Popular with financial institutions and other businesses with busy reception areas, these barriers can prevent people from easily reaching and jumping over a low barrier like a desk or counter. These clear shields are available in ballistic and non-ballistic varieties, and designed to help stop crime before it happens.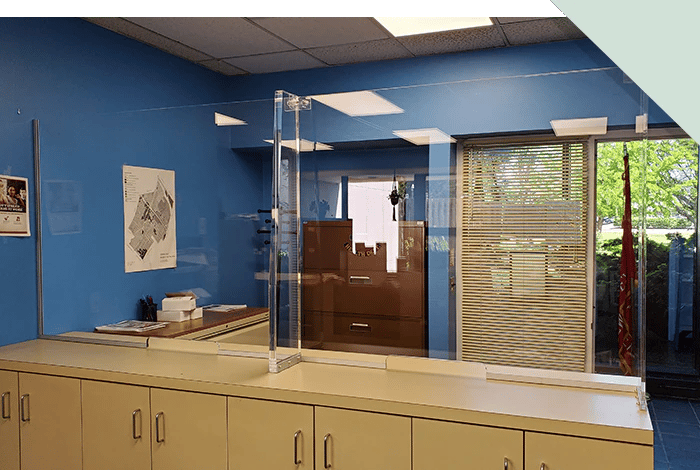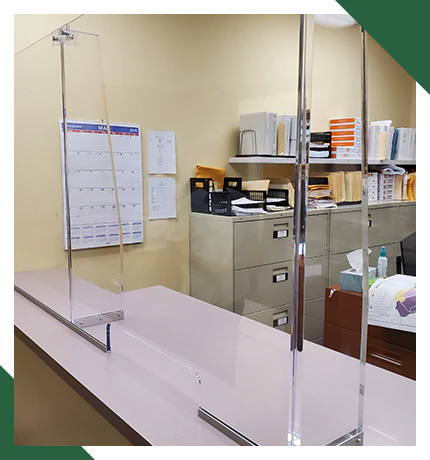 Crime Deterrence and Prevention
For businesses that may have a lower threat profile but still prioritize safety, deterrence can be an important piece of a security plan. The more obstacles you can place in a would-be criminal's path, the less likely they are to commit their crime. These barriers offer a simple and effective way to reduce the risk of a crime taking place in your business.


Where to Use Reach Guards
We most often recommend reach guards for businesses with employees working at counters or reception desks where valuables like cash, documents, or products are stored.
Usually, we'll permanently install your reach guards on top of existing countertops - meaning a person could never simply knock them down or out of the way during an attack. They are a simple yet effective tool to add to any existing customer reception area, and can be customized to accommodate your employees' daily operations.
If germ and virus transmission is a concern for your team, these barriers also offer physical protection between employees and guests while still allowing for easy conversation and transactions. During the COVID pandemic our reach guards were marketed under the name VirusGuardTM. We have since ceased using that name in favor of reach guards.
Not sure whether your business needs reach guards or a higher level of bulletproof protection? Our security experts are here to help. Get in touch below to schedule a free consultation today.
Need help finding the right solution
for your project?
Get free advice from our ballistic experts.