This week, our own Jim Richards was named to Crain's Detroit Business list of 40 Under 40 for 2015.
Crain's 40 Under 40 began in 1991 as a way to honor young professionals in Southeast Michigan who have made their marks before age 40. This year's winners launched successful companies, grew established firms, took on high-pressure projects and gave a hand to those in the community.
In December 2014 we celebrated our tenth anniversary, and shortly afterward, Jim bought out majority ownership and became CEO of TSS. Since then, Jim has been focused on growing our business as well as our team:
"No one achieves success alone. I am fortunate to lead a team that is invested in our customers' safety and are passionate about working in our unique industry."
Jim believes that TSS should function as more than "just a vendor" by providing consultative support early in the project, advising on best practices and being easily accessible during every phase of the project.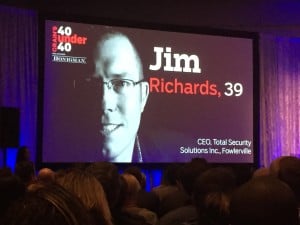 "We have an opportunity to impart more than three decades worth of bullet proof industry knowledge when we work with our clients. I know that our team members take that seriously and are proud to share what they know."
This consultative and customizable approach has contributed to our company's explosive sales growth of 95% over the last three years.
We congratulate Jim and the rest of the 2015 class 40 Under 40 who will be honored during an event at the Marriott Renaissance Center next month.
NEXT STEPS