FABRICATION & ASSEMBLY FOR Bulletproof PROJECTS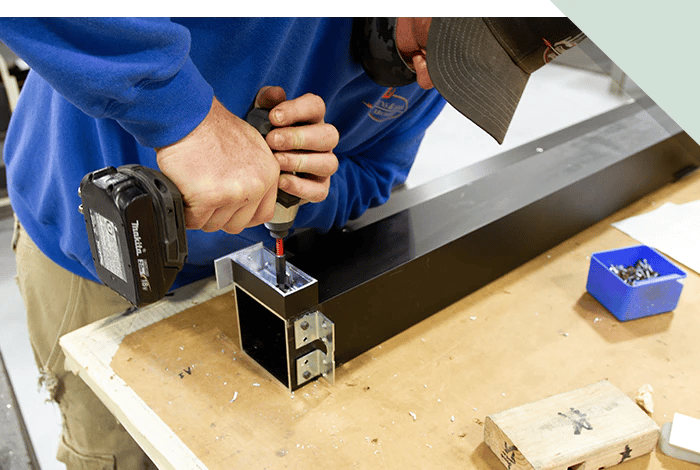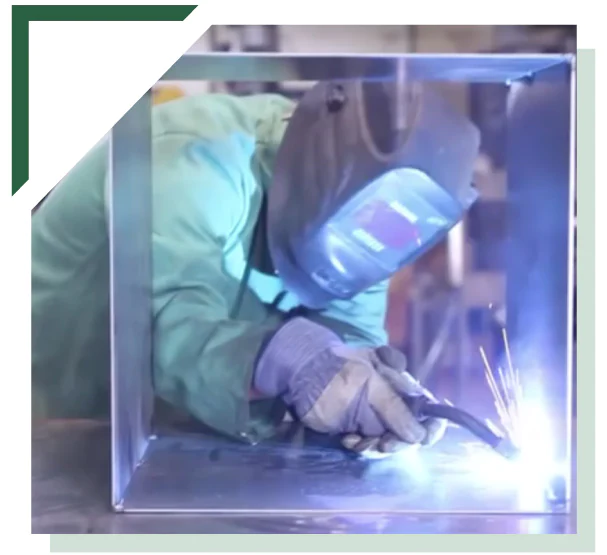 Your system is made with care, precision, and total quality control.
As with any other manufacturing process, the people and the tools that create the product are critical to its success. We believe ours to be the best in the industry.
Our multi-step manufacturing process integrates a computer-driven manufacturing operation that converts precise architectural measurements into a complete system of complementary components: extruded aluminum made to our exacting specifications, polycarbonate, acrylic, fiberglass, steel, and stainless steel, even custom millwork. This level of control enables us to offer the highest quality and fastest lead times in the industry.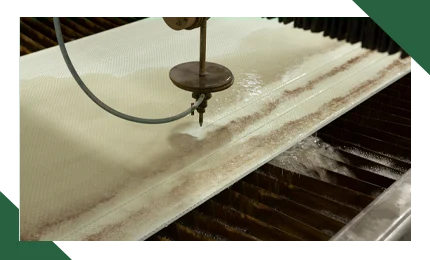 Techni Waterjet Intec i510
At Total Security Solutions, we recognize that the tools used to make a product are critical to its success, which is why we meticulously care for our equipment, and when necessary, upgrade our machinery. Recently, we added a waterjet saw to our facility, the Techni Waterjet Intec i510. With the ability to cut through nearly any material up to 6″ thick, this new technology enables us to make both straight cuts, as well as cut-outs and notches in one sweep. This streamlines the fabrication process ensuring your bullet-resistant barrier is produced more efficiently and precisely.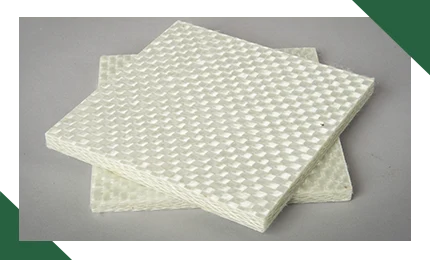 Fiberglass cutting
Laminated fiberglass is a key component in many bullet-resistant systems and is used in wood core doors, wood panels, and countertops. It's tough enough to stop projectiles ranging from .38 to .44 magnum; we use a granite saw equipped with a water-cooled diamond blade to cut the fiberglass components of your system.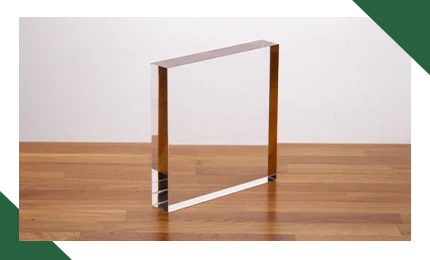 Air table
We offer acrylic in a range of thicknesses to meet any UL bullet-resistant standard; straight, non-complex sheets for your system are cut on a panel saw, instructed by our computer to maximize the use of each sheet. What little scrap that remains is recycled – the savings are reflected in our costs to you.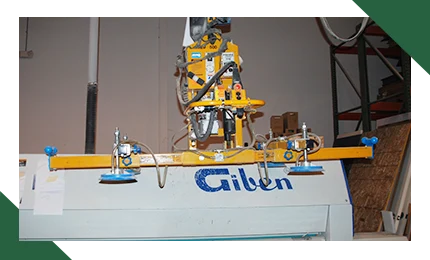 Vacuum lifter
A 6′ x 10′ sheet of 1-3/8″ acrylic is not only bullet-resistant, it's also heavy, weighing 525 lbs. This vacuum lifter, much like the ones that install glass in automotive factories, easily moves your acrylic sheet to our CNC router.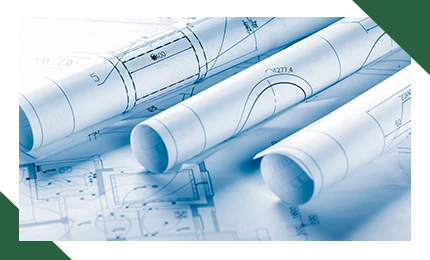 CNC point-to-point router
Completely driven by the specifications transferred from your blueprint to our computer, this CNC point-to-point router cuts, routes, and drills a sheet of acrylic in one seamless procedure. Combining several moving and manufacturing steps assures precision and also reduces costs.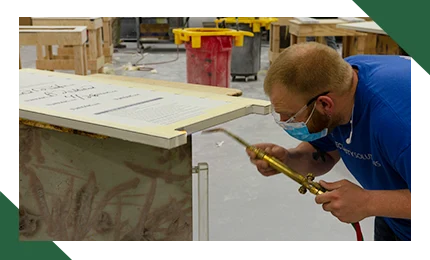 Flame polish
Not every edge of acrylic in your installation will be visible, but we flame polish to assure that your installation looks professional to your staff and your customers.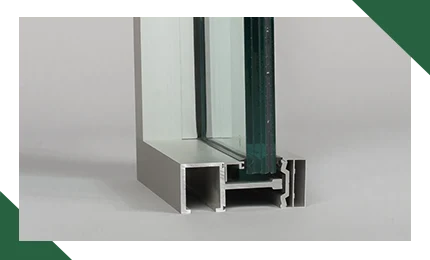 Tekna aluminum extrusion router/driller
Another example of how our computer-driven manufacturing process makes for a better installation in your facility. Driven by the specs transferred from your blueprint to our computer, this machine simultaneously routes and drills each piece of aluminum extrusion. Precision-placed, pre-drilled holes eliminate cutting or drilling on-site, speeding the installation and eliminating dust and metal particles.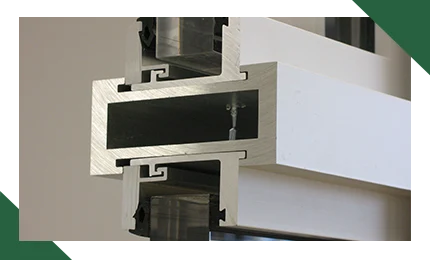 Aluminum extrusion
Bullet-resistant aluminum extrusion used for framing storefronts, cash windows and other parts of your system is made to our demanding specifications and meets UL standards for bullet-resistance.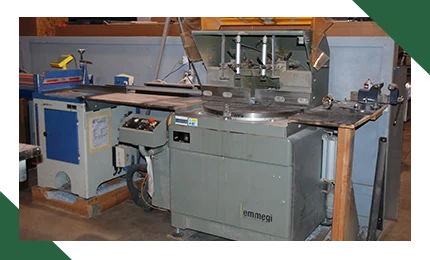 Emmegi saw (extrusion cutter)
The step from precise, architectural measurements at your facility to precisely cut components is short and direct. Tools such as this extrusion cutter are driven by the specs in the computer profile of your specific application, generating labels that guide the manufacturing crew, ensure flawless component assembly for shipping, and ease installation.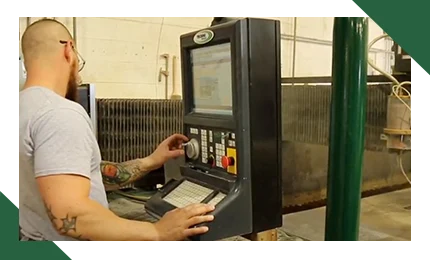 CNC press brake
Aluminum and stainless steel components may be part of the aesthetic and/or functional profile of your bullet-resistant barrier system. Precise measurements at your site generate precisely shaped components for your system.

Every component of a system like yours is rigorously tested to meet stringent standards for bullet-resistance. We work with several internationally renowned testing laboratories to assure that every material and every component meets or exceeds standards.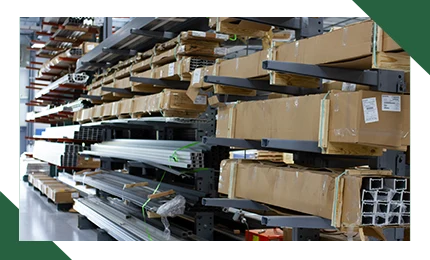 Pallet ready for shipping
The care and quality we invest in every component and every bullet-resistant system carries through packaging, shipping, delivery and installation. Our computer-driven manufacturing and identification process ensures precision components that are packaged and shipped correctly and can be installed with a minimum of labor or disruption of your business environment.