Bullet-Resistant Steel Doors
Our commercial steel security doors are fabricated with 16 gauge cold rolled steel, hung on a steel frame for maximum protection. These doors are opaque and powerful, best used for facilities with higher threat levels or businesses that need to communicate a feeling of extreme safety for employees and visitors. Offering the highest levels of bulletproof protection, steel doors help you maintain both an impression of tight security and real protection from serious assaults.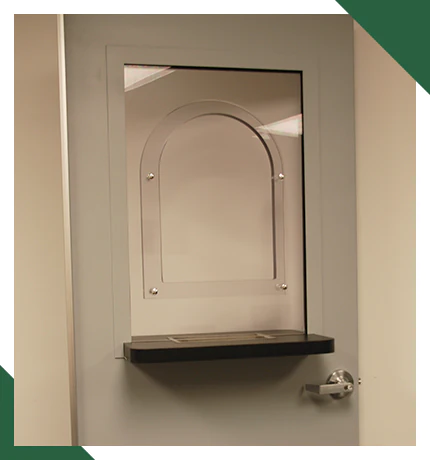 Custom Steel Security Doors
Steel doors from TSS come prime painted in gray in standard sizes 3/0 x 7/0, 3/0 x 8/0 and 6/0 x 7/0. Additional colors, sizes, and double door options are available upon request. Our engineers will work with you to establish the right fit for your bulletproof system.


Hardware
Standard door hardware consists of a heavy-duty continuous hinge, overhead surface closer, Schlage lever lockset, and an anti-jimmy plate as needed.


Bulletproof protection
Our steel doors are tested according to standards for UL Levels 1-8. Most businesses' risk factors require lower bulletproof protection levels from their barriers. However, if your security needs call for a steel barrier tested to Level 8, you can rest easy knowing that not even an attack from a high-powered assault rifle can penetrate your system.
View detailed information on our product specifications page.
Watch as the TSS team tests a bullet-resistant steel door to meet UL Level 3 standards.
Need help finding the right solution
for your project?
Get free advice from our ballistic experts.