Ballistic Glass and Door Videos
There are many different ballistic glass and door products available. It is important to understand which products are fit for different applications.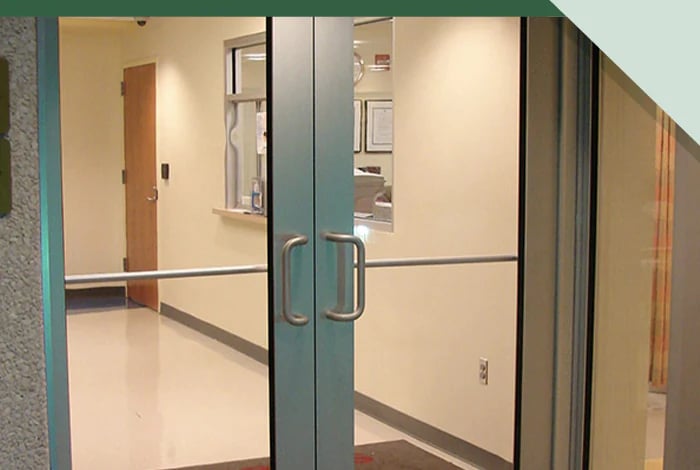 Ballistic Glass: What Are My Choices?
As Total Security Solutions CEO Jim Richards explains, "There are many different ballistic glass products out there, all of them are fit for different applications—and most people call all of them 'bulletproof glass,' no matter what they are." Specifically, there are five types of bulletproof glass commonly sold today. You see them everywhere: pharmacies, banks, shops, schools, government buildings, community centers, houses of worship, and so on.
The five most common types of bulletproof glass are:
1.

traditional laminated glass
2.

insulated ballistic glass
3.

acrylic
4.

polycarbonate
5.

glass-clad polycarbonate
What is Glass Spalling and How Can it Be Avoided in Bulletproof Windows?
Windows are an important architectural and aesthetic consideration for any commercial or private structure. However, windows can be a weak point in your building's security, and an attempt to breach the building through the windows may result in spall.
Learn what spall is, your no-spall and low-spall options for ballistic glass, and what to consider when planning your next project.
Ballistic Doors: 5 Things To Consider When Purchasing
When designing and installing bulletproof doors, there are a few critical considerations to keep in mind. Which way will the door swing? What hardware will you need? Is there any extra functionality required, such as electronic access?
Senior TSS Sales Consultant, Bob George, goes over our top 5 things to consider when choosing which ballistic doors are right for your threat level and protection needs. When you work with one of our professional bulletproof consultants, we'll help you create a custom security system that includes bullet-resistant doors as part of an overarching safety plan.
Testing Level 3 Bulletproof Steel Door: Shot Over 100 Times
Glass-Clad Polycarbonate (more commonly known as GCP) is a combination of laminated class and polycarbonate. It can be manufactured to achieve UL levels 1-8. Typically used where optical quality, clean-ability, and long-term retention of properties are important.
The 8 Levels Of Bullet Resistance For Bulletproof Glass
There are eight levels of bullet resistance for bulletproof glass. These ratings are designated by the UL (Underwriter's Laboratory) to determine the type of protection each level offers.
TSS DEFENDER Ballistic Protection And Forced Entry Glass Types
DEFENDER glass is an exterior product that offers a permanent solution to preventing forced entry and stopping ballistic attacks. We developed these specialty windows to answer calls from clients for a long-lasting solution that addresses multiple threats with one aesthetically pleasing barrier.
DEFENDER glass is ideal for:
Schools
Corporate offices
Places of worship
Hospitals
Community centers
Small businesses
Watch to find out which of the 3 types of TSS DEFENDER ballistic glass will meet your unique safety needs.