BALLISTIC Installation VIDEOS
A leader in the bulletproof industry, Total Security Solutions designs, manufactures, and installs bullet-resistant products and bullet-resistant barriers nationwide.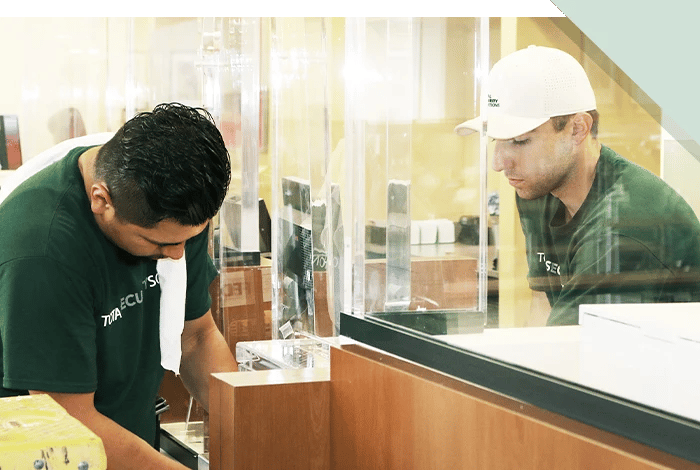 Installing Ballistic Barrier Systems
Our comprehensive approach to creating custom ballistic barriers is what sets us apart in our industry. When you work with TSS, we begin with an in-depth consultation to determine what bullet-resistant solutions you need, followed by expert design, fabrication, and installation services. Our proven process has resulted in thousands of successful projects and safer workplaces.
Teller line time-lapse installation video
This time-lapse video shows the overnight installation of a custom bulletproof teller line system in a bank branch.
Municipal office Fixed Barrier Time-lapse installation video
Watch the entire process of installing a custom designed ballistic barrier system in a county office that had no barrier system previously.
Architects And Contractors: Bulletproof Glass Installation Is Finish Work
Ballistic glass stops bullets, but it's not absolutely impervious to damage–especially during installation. If installed too early, you run the risk of the ballistic glazing and aluminum frames getting scratched, dinged, or discolored by chemicals. Unlike conventional glass windows, you can't scrape paint off of a bulletproof window or wipe it down with Windex (For that matter, you should NEVER USE WINDEX ON BULLET RESISTANT GLAZING!)