Glass has become such a common material in modern buildings, it's often easy to forget that we are relatively early in understanding the extent of its capabilities. It wasn't even until the early 1950s, with the development of an automated float glass manufacturing process that provided consistent high quality at a moderate cost, that glass was truly made available to the masses. The future of architectural glass, however, is taking on a new shape. The ability to curve and bend glass has helped to evolve this material from a means of allowing natural light within interior spaces to an artistic focal point.


In 2016, the design for the new Little Caesars Headquarters in Detroit, Michigan was unveiled, featuring 14-foot tall formed laminated glass shapes that loosely resemble a piece of pizza, the hallmark product of the company's success. What seems so visually simplistic–a pane of glass bent down the middle–is actually an engineering marvel. The double-curved glass walls of the Emporia Shopping Mall, located in Sweden, is an example of the intricacies involved in manufacturing a large scale curved glass structure.
The Art of Bending Glass
There are several methods of curving or bending glass, including bending and tempering, hot bending, cold bending, and lamination bending. In the case of lamination bending, the glass is first layered with other interlayer materials and then bent before ultimately being placed inside an autoclave at temperatures near 280°F to complete the lamination process. The extreme temperature causes the interlayer to soften to the consistency of honey and fill the crystalline of the glass, resulting in laminated safety glass. Due to the autoclave process, however, the glass must actually be bent at a tighter radius than is ultimately desired because the heat will cause it to spring slightly back to its original shape.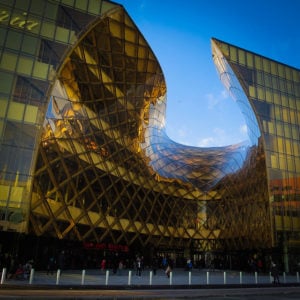 The 804 double panes of glass installed at the Emporia Shopping Mall were manufactured by heating the glass, causing it to soften and through its own weight, take the shape of a mold. Almost 600 different molds were used to create the intricate curve pattern. Equally as important as the heating process, the glass had to be properly cooled to ensure there was no residual stress within the panel. The final step was laminating the panes of glass together using amber or blue plastic film, which provided the desired color and safety characteristics.
NEXT STEPS:
Sign up for our newsletter to stay up-to-date with the latest industry news
Photo Credit: Emporia Shopping Center, by Håkan Dahlström