Changes are happening in schools across America, with the biggest focus on security. Schools are working to be more proactive in preventing violence. Many schools have installed entryway vestibules outfitted with bulletproof glass to control access to the building. They are also implementing new training programs, such as ALICE, to better prepare teachers and staff in the event of an active shooter. And while security will remain—and should remain—a priority in the design and construction of K-12 schools, there is a lot of innovation to highlight in other areas of the design of primary and secondary education buildings.
Design to Promote Collaboration
There has been a trend in office environments toward open work spaces and impromptu meeting zones, providing a more relaxed environment for small groups to collaborate. A variety of furniture styles, from standing height tables to couches, offers flexibility for a quick pow-wow or a "get comfortable, this could take a while" brainstorm session. More recently, this shift in thinking has been applied to the design of primary and secondary education school buildings as well.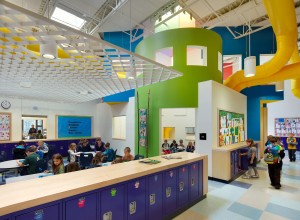 In 2012, HMFH Architects unveiled three new elementary schools in Concord, New Hampshire, focused on providing adaptive, accessible, collaborative spaces. Featuring bold colors and ample natural light, the design includes a two-story learning corridor that houses an amphitheater, as well as spaces for art projects, group discussions, story-telling and individual reading. Where physical boundaries were necessary, glazing was utilized as much as possible to maintain a sense of openness and community.
Situated among a grove of big-leaf maples, Carl Sandburg Elementary in Kirkland, Washington took advantage of its surrounding environment and created collaboration spaces and areas of learning, including raised plant beds, outside. Expansive windows flank all sides of the school connecting the interior building space with the outside landscape, creating a park-like environment. Small groups of three or four classrooms are clustered around a central open space which provides flexibility for students and teachers to work individually or in small groups.
The notion of collaborative learning is becoming increasingly popular in primary and secondary education. Schools are moving away from teacher-centric learning highlighted by long lectures and moving toward more active learning, where students work in small groups to learn hands-on and serve both as the student and teacher. This trend is further facilitated by the architecture of the school buildings. A move toward more open spaces encourages this type of learning.
Photo courtesy of www.archdaily.com
NEXT STEPS:
Sign up for our newsletter to stay up-to-date with the latest industry news