A single incident in late 2011 taught us a great deal about White House security. On the evening of Friday, November 11, 2011 a young man, Oscar Ramiro Ortega-Hernandez, drove from Idaho to Washington, D.C. with a legally purchased high-caliber designated marksman rifle (Oscar Ramiro Ortega-Hernandez) fired at least nine shots at the White House using a high-powered rifle. Although neither then-President Barack Obama, Vice President, or any of their family were in any danger, the attack caused $97,000 in damages, and triggered a stark reappraisal of White House security protocols.
(Ortega-Hernandez is now serving a 25-year sentence in federal prison. In 2013 he pled guilty to two of the nineteen charges against him: one count of destruction of property and one count of discharging a firearm during a crime of violence. In exchange, the government dropped the charge of attempting to assassinate the President, which carries a life sentence.)
A Disturbing Shot
It was initially believed that the shooter had fired fewer shots. A witness in an adjacent vehicle tweeted at the time:
"Driver in front of my cab STOPPED and fired 5 gun shots at the White House. It took the police a while to respond."
Similarly, early reports indicated that only two shots struck anywhere near the presidential residence, one hitting the lawn and the other striking the famous semi-circular columned Portico on the south face of the White House. However, the Secret Service ultimately discovered that Ortega-Hernandez fired nine times, and that seven of these shots struck the White House, despite the extremely long distance (over one-quarter mile). Most of these struck the White House roof or second-floor facade. One bullet lodged in a window frame. Another struck a historic window in the first family's private living rooms, near an area of the balcony that President Obama frequented. This bullet was stopped by a layer of ballistic glass not visible from the exterior.
Although the President and Vice President were not in the White House–or even in the country–when these shots were fired, it was a disturbing action nonetheless. First, because it shows the kind of accuracy even a casual shooter can expect from a modern rifle: This shot was taken from a car more than 2,100 feet away, parked on Constitution Ave. The shooter's sight picture thus looked something like this: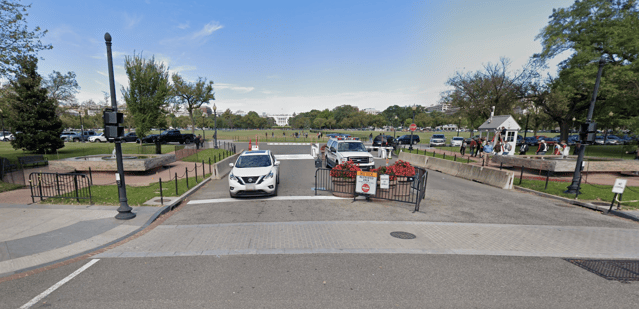 (The White House is that tiny pale wedge centered along the tree line).
Second, it's somewhat unnerving that, in an age when even toddlers are given full-body x-rays before boarding an airplane, a lone gunman can still send a bullet into the President's back porch.

White House Security
The United States White House was absurdly insecure long before "ballistic glass" was part of anyone's security vocabulary. Up until the late 19th Century the Executive Mansion (as it was then known) regularly threw its doors open to the public. In 1829 a crowd of 20,000 revelers overran the Presidential Mansion in celebration of Andrew Jackson's inauguration, forcing "old Hickory" himself to flee to a local hotel. Staff and servants had to set up washtubs of orange juice and whiskey on the White House lawn to draw the crowd out of the mansion. Presidential assassin Charles Guiteau wandered the White House halls during several such open houses and even chatted with the First Lady (he found her to be a very kind, if delicate, woman). Then, on July 2, 1881, he shot and killed President James A. Garfield at a nearby train station.
Even as late as 1994, after several disgruntled Americans had fired on the White House from just outside its wrought-iron fence, there were complaints that insufficient work had been done to install ballistic glass. In 1995, following the Oklahoma City Bombing, Pennsylvania Ave was finally closed to automobile traffic, removing one very attractive–and convenient–route for White House shooters.
Ballistic Glass at the White House
Prior to the November 2011 incident, little was publicly known about the current use of ballistic glass at the White House, as crews had never been seen replacing the exterior windows. According to Jim Richards, CEO of Total Security Solutions, this isn't surprising. Jim has experience retrofitting ballistic glass in historic government buildings in and around Washington, DC. He's found that backing existing windows with a second ballistic layer is almost the norm.
"It's probably the easiest thing to do when you're going back through with a retrofit." Jim explains. "A lot of times, with a historical building exterior, they want to keep that look, so t's a lot easier to just lay in the transparency behind the existing windows."
Although Jim has no special knowledge of what ballistic transparency might be in use at the White House, he's uniquely qualified to make an educated guess. While Level 4 ballistic glass would stop shots like those fired by Ortega-Hernandez, Jim doubts that's what is reinforcing the White House windows. After all, the history of attacks on the White House has been one of shooters with powerful firearms firing from a much closer range. At least one would-be assassin aimed a small airplane at the Presidential bed chamber–a security risk that calls for a level of impact-resistance not available with many Level 4 ballistic transparencies.
Asked to guess, Jim hazarded: "That's probably a Level 8 glass-clad polycarbonate. That wouldn't surprise me at all–but it wouldn't surprise me if they had something even tougher that we've never seen. I have no idea, but the federal government has a lot more money than most of my customers do."