Both renovation jobs and new commercial construction are increasingly incorporating bullet-resistant barriers. This isn't just in true in high-crime areas, where fast-food restaurants and 24-hour liquor stores have long relied on bandit barriers to deter armed robberies. Many university and government projects now benefit from Homeland Security grants, which can significantly defray the cost of otherwise costly bullet resistant barrier systems.
FOUR REASONS TO BRUSH UP ON BANDIT BARRIERS
There are four reasons that all commercial contractors should familiarize themselves with bullet barrier design and installation:
Demand is rising
There's little competition among installers
Design is hard, but installation is easy
Offering bandit barriers adds a profit center without adding expenses
WHY YOU SHOULD INSTALL BANDIT BARRIERS
There is an increasing number of handguns on the street in America, and property owners, businesses, and government agencies are responding. Sometimes this means hiring security teams or arming themselves (over the last several years concealed carry permits have jumped by 30 to 150 percent in most states). But many property owners recognize that over the long term a bullet resistant bandit barrier is the most cost-effective–and safest–response to this rising gun threats.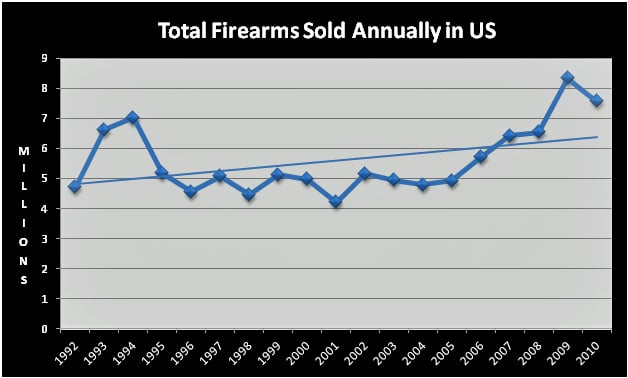 (Sources: ATF, National Shooting Sports Foundation, United States International Trade Commission.)
But despite rising demand, few construction contractors include ballistic barrier installation in their offerings. Many contractors are a little intimidated by the exotic "bulletproof" materials, leaving these lucrative jobs to glaziers–who are accustomed to working with different types of glass and aluminum frames. But the bulk of any bullet resistant barrier installation is very basic construction, well within the skill set of any framer or dry-waller. While ballistic design is tricky and should be handled by experienced companies, installation is really no more challenging than framing walls and hanging doors. It calls on the same skills and tools you use every day on every job.
Taking a little time to connect with a bullet proof company means adding an impressive profit center to your business without any risk: all the components and materials can be purchased pre-fabricated, with the design costs absorbed by the end user.
PARTNERING WITH EXPERTS
By partnering with an established bullet proof company you can offer bullet proof security to your clients without having to go back to school for degrees in architecture, structural engineering, or materials science. Total Security Solutions can supply all-in-one drop-in units–they install in minutes once you've framed out your walls–or complete end-to-end pre-fabricated bulletproof barrier systems, shipped ready to install without any additional modification. Their expert staff can guide you through the bidding, measurement, and installation process so that you can start getting in on bandit barrier projects today. Contact Total Security Solutions to learn more.