"Since the start of the year, we're finding that physical security for C-level executives is more of a focus," notes Total Security Solutions CEO Jim Richards. "That's nothing really new. The guy in the corner office has always had a little more to worry about when it comes to security. But at one time, corporate security like this was only top-of-mind for companies that were dealing with things that they knew people aren't happy with. There was bad press, or actual threats. Now, we find that these customers are rarely responding to a specific threat. This is about staying ahead of the game."
And who is staying ahead of the game?
Everyone: Major financial institutions, of course, but also law offices, manufacturing facilities, multi-billion dollar tech companies, telecommunications giants, pharmaceutical firms, multi-national conglomerates, a major American pulp and paper company, the distribution centers for a leading North American chain of big box home improvement and appliance retailers, and more.
"We cover the full gamut," Jim explains. "If you can think of it, we've done it. Security nowadays is everywhere."
Custom Physical Security for Corporate Offices
"For example," Jim continues, "At the start of 2018, we were seeing an influx of people interested in all-glass doors for corporate offices. This is one of our standard products now, a "generic" all-glass door.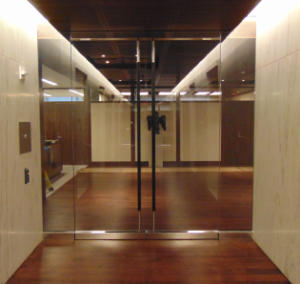 In these custom corporate security situations, clients were opting for the higher-security door, with Level 3 glass-clad polycarbonate transparency. Not only will these stop three (or more—usually many, many more) shots from any pistol up to a .44 Magnum, they also carry a light forced-entry rating and can accommodate a wide range of access control systems and technologies. Most importantly—and the likely driver behind their popularity—these doors blend right in to almost any corporate setting."
In order to accomplish this, TSS fabricates all of their doors entirely in-house (even the "stock models"). Part of this is simple practicality. A pre-fab door is never going to be a perfect fit. If you want a system that looks good and works smoothly, you need a custom-tailored door.
"Too often facility owners and security integrators, they look at security as a fix that can be dropped in place, like swapping out a leaky valve or adding a skylight." explains Jim. "They don't see this is a system of components. A barrier is a component of security. Cameras are a component. Access control systems. Fire suppression. The security guards. Their security protocols. All of this goes into creating a system."

Custom Doors are the Linchpin of Custom Corporate Security
For Jim, this goes beyond practicality, and even beyond just physical security. "We always want our work to be a cut above," he explains. As an example, he shares these 100% custom interior double doors, built to secure the C-level suites in a sensitive corporate facility.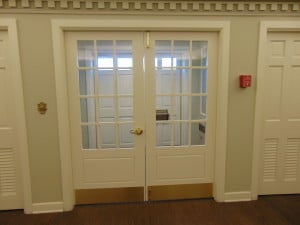 "This is the kind of custom work we can do on a one-off," Jim explains. "When we built these a few years back, no one in our industry had ever done doors like these. Those door lites aren't individual panes—each door has a single-piece of monolithic acrylic, visually divided by false muntins that we built from scratch, precisely blended to the surface of the door. The door itself is backed with bullet resistant fiberglass, and also conceals access control devices integrated with the building-wide system."
Even when security has to come first, it should never do so at the expense of usability and other concerns. "Big corporate customers are big on aesthetics. We appreciate that," says Jim. "You may only have to stop a bullet once in a lifetime, but people have to look at those doors, have to work in that building, every single day of their lives. You don't want it to feel like a prison, but you also don't want it to be something people can get past, on purpose or by accident. And you need it to work without creating headaches for staff and visitors."
Balancing Security, Functionality, Aesthetics, and Cost
For Jim, the bottom line is always the bottom line. This often means collaboration. At the very least, it means being aware of what trades are coming in before you, and what integrator is following, so that all the pieces can mesh smoothly.
"We always want to meet the customer's needs. If they pull in a local contractor and architect, those folks will want to handle the design, and put us in a support role. But if they want to work directly with us, we have a really deep bench when it comes to design and engineering. And, of course, installation. We specialize in overnight and weekend installations; no interruption to business, no hint that you've had to increase physical security. We can work however you need us to work."