Nearly every corporate office building in present-day architecture features large glass windows or full glass curtain walls. A curtain wall is a non-structural building element intended to keep the weather out and people in. Typically comprised of a metal framework and glass panes, architects use glass curtain walls to provide daylighting and a beautiful aesthetic.
The earliest forms of glass curtain walls were constructed of steel and plate glass attached to the mullions with an asbestos or fiberglass modified glazing compound. Advancements include silicone sealants or glazing tape, as well as aluminum mullions, a much lighter and more ductile metal.
The Boley Building
Built for the Charles Boley Clothing Company in 1908, the Boley building is the world's first known example of "steel with glass construction." Prior to this time, buildings were usually made of brick or stone, often five or six feet thick at the bottom to provide the necessary support structure. The invention of steel, however, allowed for the construction of taller buildings, larger glass windows and a streamlined support system. Located in Kansas City, Missouri, the Boley building was designed by architect Louis Curtiss. When first completed, the building was considered stark and even ugly in comparison to the ornamented style common during that time period.
The Hallidie Building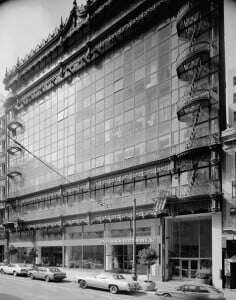 Recognized as one of the world's earliest large-scale glass curtain-walled buildings, the Hallidie Building, named for cable car pioneer Andrew Smith Hallidie, opened in 1918 in San Francisco, California. Designed by Willis Polk, the building features decorative Gothic metalwork and was originally painted blue and gold. The seven-story glass façade is comprised of a series of glass panes suspended in a steel mullion grid.
The building underwent a major restoration in 2010 after being deemed unsafe. The original façade system had not been designed to allow for thermal expansion, which caused some elements to warp. Efforts were made to restore the building to its original glory including repairing and saving many of the original window sashes. All 513 window sashes, however, received new laminated safety glass – a major improvement over the original single-pane glass.
NEXT STEPS:
Image courtesy of commons.wikimedia.org