It was once perceived that the more technical a hospital appeared, the better it was received by patients and visitors. More recent evaluations, however, have proven that a stronger emphasis on the patient experience – by creating a warm, inviting atmosphere with access to outdoor spaces and natural light — builds more confidence in the minds of the patients and their families as to the care that will be received. This shift in focus has carried through to the architectural design of hospitals and has transpired into some of the most environmentally-friendly, state-of-the-art healthcare facilities.
The trend toward visual healing has naturally gone hand-in-hand with creating a more environmentally conscious facility. Some hospitals, however, aren't just incorporating gardens or sprucing up their interior walls. They are going one step farther and earning LEED® green building program certification, a rating system designed to evaluate a building's environmental performance and encourage sustainable building practices. In April 2011, the U.S. Green Building Council (USGBC) formally launched LEED for Healthcare, a rating system tailored to the specific healthcare codes and standards. More than 225 healthcare facilities have already achieved some level of certification to the LEED-HC standard and an additional 1,100+ projects are in the process.

First LEED Platinum® Hospital
Dell Children's Medical Center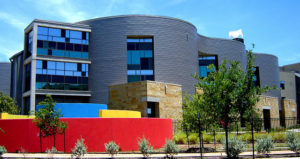 in Austin, Texas became the first hospital certified LEED Platinum® in 2009 and has also been recognized by third party organizations as one of the top 25 environmentally responsible healthcare facilities in the country and in the top 10 for water conservation, energy conservation and green building practices. One of the biggest thing visitors notice when entering the Dell Children's Medical Center is the air quality or otherwise lack of "hospital smell" typical of standard hospitals. Additional elements which contributed to a platinum certification include the use of native plants,a green roof, motion sensor lighting to reduce energy consumption and flooring made from rapidly renewable materials, such as cork.
It's been argued that seeking LEED certification isn't worth the upfront cost, but the long-term happiness of patients, visitors and staff coupled with lower operating costs have stood as justification for the extra effort and financial commitment.
Photo courtesy of www.flickr.com.
NEXT STEPS: