For years our clients have seen firsthand the engineering expertise and craftsmanship that our team brings to the table. For over thirty years, TSS has led the way in bullet-resistant barrier systems, creating custom solutions to fit our client's specific needs. Today we shine a light on the recent brainchild of two of our engineers, Nick Vorac and Jake Clark, who came together to craft a solution for a particularly difficult challenge.
The Problem
Previously, all Level 5 aluminum doors had to utilize no spall glass, regardless of what was used in the surrounding windows. This meant each project could potentially require two ballistic glass makeups, overcomplicating matters for many of those involved. Our ballistic experts had to explain to customers that their security system would have two different glass makeups, both low and no spall because the door frame couldn't accommodate the thicker profile of low spall glazing.

Working with only no spall in Level 5 doors had become an annoyance. Seeing this as an opportunity for innovation, TSS CEO Jim Richards put forth the call to the engineering department, noting that "we have an engineering challenge" to solve.
Designing the Solution
One of the biggest challenges we faced was that our low spall glass has a thicker profile and would not fit properly in the existing Level 5 door framing system. No spall glass has a mar-resistant layer to stop spall, with a thinner overall size. Low spall, on the other hand, has no mar-resistant layer, is thicker, and is more typical for storefronts.

Working with our glass supplier, Nick and Jake were able to re-engineer the thickness of the Level 5 glass used for low spall. They then worked to ensure the glass would fit the frames by sourcing an appropriately-sized rubber gasket or "wedge" to allow the snuggest fit possible for the glass.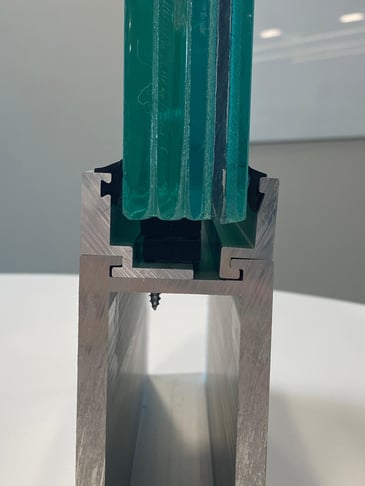 Results
After a great deal of brainstorming and testing, our engineers rose to the challenge, creating a product solution that ticks all of the boxes. The result is a tribute to simplicity, offering a solution that is simultaneously less confusing for our clients and a superior product for their ballistic needs. Customers can now have exactly what they want, allowing for the same level of glass protection, whether it's for the windows or the doors. Our team is eager for the opportunity to incorporate them into a future project and show off their efforts.