We know not everything will fit through a mail slot. And an open, pass-through window? That's often not an option. In recent years, as security concerns have multiplied, we've become the industry leader in supplying package receivers and passers. Over the course of 20,000 installations, we've found that people chronically underestimate the space needed to pass items through their barrier—even when "all we handle is paperwork."
This quick guide will help you avoid last-minute changes, later renovations, or years of frustration at your front desk.
The Four Types of Pass-Through Window Package Receivers
Generally speaking, there are four types of package receivers:
Deal trays—light paperwork and cash
Countertop Receivers—larger items, larger deliveries, interior settings
Through-wall Receivers—larger items, larger deliveries, exterior/after-hours settings
Lazy Susan Receiver—larger items, higher-throughput, interior settings
Each of these excels in certain applications—and Total Security Solutions can engineer and custom fabricate any of them to suit your facility and operational needs.
Contact our experts to discuss your "Pass-Through" Security needs
Deal Trays
The "deal tray" or "pass-through tray" is by far the most common option for secure document exchange across a barrier. These are available in a wide range of standard sizes and configurations (some with enhanced security). Since TSS is a full-service custom bulletproof company, we can fabricate these to any practical size, depth, and curvature (provided there's sufficient clearance under your countertop—you don't want a recessed deal tray that blocks your drawers or bangs the receptionist's knees). Deal trays are great for handling cash and paperwork on an individual basis, but are extremely frustrating with packages or large paperwork drop-offs (even thick file folders can prove a challenge).
Countertop Package Receivers
Our standard all-acrylic countertop passer/receiver is the PE Package Passer. These are double-door cubes equipped with interlocking hardware, so that only one door can open at a time. They come in standard 14″, 16″, and 24″ cubes (14″ is the most popular). This is a flexible package passing option, suitable for bulk mail/paperwork deliveries and odd-shaped items. Due to the interlocking mechanism, it may prove slow in extremely high-throughput settings, where each visitor to the counter has to use the passer, or when there are multiple exchanges of items/documents that must go through the passer.
Another countertop option is a "
pizza passer
." This style of passer gets its name from its low profile—and the fact that we developed it at the request of a national pizza chain after two of their Detroit-area locations were robbed by thieves who initiated robberies by driving a car through the locked front doors. The low profile and single "drop lock" back-flap door make this excellent for quickly passing a wide range of bulky or awkward items (as well as long items, like rolled blueprints). That said, the pizza passer is a poor choice if you frequently receive packages or documents.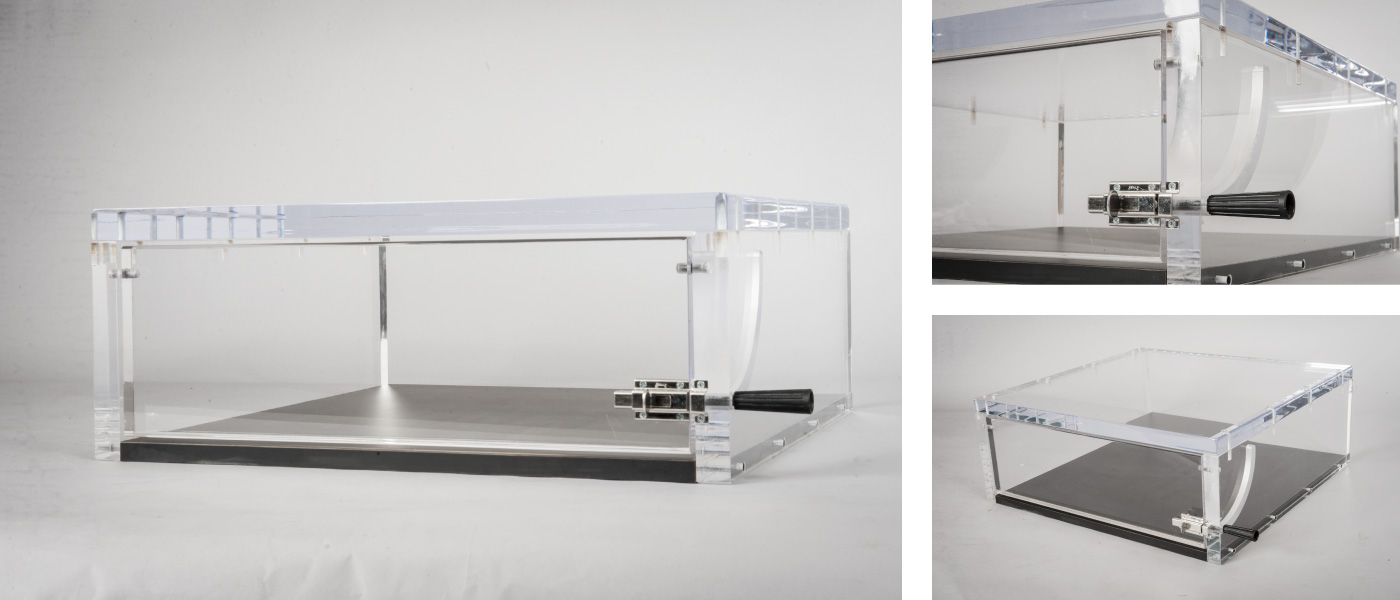 Through-wall
Package
Receivers
Our standard through-wall passer is the steel SPE Bullet Resisting Package Passer. This comes as a standard 18″ cube and is mechanically and functionally the same as the countertop acrylic cube passers (including the interlocking doors). The major difference is that it is opaque and designed to be mounted through an interior or exterior wall. This is an excellent drive-thru or extended-hour option.
Lazy Susan Package Receivers
Our Lazy Susan Package Passer is also counter-mounted, all-acrylic, and comes in a standard 24″ cube. These are extremely fast passers, which we've installed everywhere from pharmacies to late-night convenience stores. If every single interaction at the barrier includes passing something other than simple paperwork, the Lazy Susan is a good choice. If you have rushed periods where long lines might build up, it's almost a necessity.
How to Pick the Right Pass-Through Window Package Receiver
Picking the right passer really comes down to asking the right people the right questions. Talk to anyone who regularly handles packages through a secure barrier. In some facilities, this can include both front office (reception, clerk, etc.) and back-office (inventory or office manager, etc.) staff. Ask them four questions:
How often are you passing items? Think in terms of how many interactions at the barrier involve passing, how many total items are passed on a daily basis, and how many items are passed in a given transaction. Having 20 transactions where each person must pass items through the barrier is very different from having 20 transactions where 19 involve no paperwork and one involves passing 20 items through the barrier.
How often are you passing a "large flat"? Most deal trays can accommodate a large manilla envelope—around 9"x12"—but if it's thicker than 1/2" or rigid, this can become a challenge.
What's the biggest item you've received in the past month? What's the biggest item you've ever received? If the answer is "Oh, about a foot on a side" or "I dunno, about the size of a toaster," take a moment to get out a tape measure (or grab the break room toaster) and have them actually look at it and confirm that's what they were thinking. Most people are surprised to see how often their off-the-cuff estimates are wildly inaccurate.
What are your current options for passing something that's too big? This is important, as it almost invariably means compromising security or safety.
Pass-Through Windows, Coronavirus Barriers, and Custom Package Receivers
The coronavirus has added another twist to package handling, and a lot of offices have been forced to quickly come up with virus barriers. Our quick-ship VirusGuard™ – Mobile Barrier has a standard 12-1/2″x1-5/8″ pass-through slot. (Our VirusGuard™ – Fixed Barriers are entirely custom solutions and can accommodate any configuration for item exchange).
But nothing is written in stone. We individually craft every one of these package receivers/passers in our Fowlerville facility. We can curve steel to a range of radiuses, construct boxes of nearly any dimension, and cut slots in acrylic, steel, or fiberglass in whatever size makes sense.
Because every business has different needs, we can assess the best solution for your situation and craft the components to keep your business running smoothly.
Request a FREE Consultation Today!