Curtain walls and storefronts are both styles of glass facades. In both cases, the structure is a non-load-bearing assembly of glazing and framing that is suitable for interior or exterior applications. However, there are differences between the two styles:

A storefront includes windows and an entryway. They are usually limited to the first floor. Storefronts are mounted between slabs, anchored at top and bottom, and designed for high-traffic use. On average, they're two inches deep.
A curtain wall does not include an entrance, only windows. They usually span several stories and are mounted in front of the floor slabs, hanging like a curtain over the face of the building—hence the name. Curtain walls are usually 2 ½ to eight inches deep.
How Bulletproof Curtain Walls and Storefronts Are Used in Ballistic Applications
Bulletproof curtain walls and storefronts are used in interior applications. When a building needs bullet-resistant exterior windows on a glass-dominated façade, architects typically recommend a window wall, or have a non-rated curtain wall with ballistically-rated backglazing.

Both bulletproof curtain walls and bulletproof storefronts can effectively segment off sections of a building—a key tactic for keeping a shooter from moving freely throughout a space.
For example, storefront-style systems are common throughout school buildings. In airports, ballistic and blast-rated curtain walls funnel passengers through security checkpoints while protecting from possible attackers.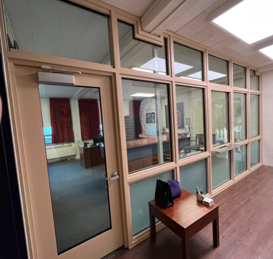 Interior bullet-resistant curtain walls or storefronts can also be freestanding—or even mobile. When a historic building requires a layer of ballistic security (like the Duberstein Bankruptcy Courthouse in Brooklyn) there are often restrictions regarding what details can be altered. This is the benefit of working with an industry expert like TSS. Our skilled team of designers and engineers designed and fabricated a freestanding barrier that didn't compromise the integrity of historical details while providing the protection the employees needed.
Making Bulletproof Curtain Walls and Ballistic Storefronts Requires Special Considerations
There are two primary design considerations for ballistic storefront or curtain wall projects: weight and installation. TSS CEO Jim Richards has overseen more than 25,000 ballistic security projects from concept to completion and has seen the result of failing to take these elements into consideration.
Bulletproof Storefront and Curtain Wall Weight
"The biggest headache, by far, is weight," Jim explains. "You're putting four-foot by four-foot panes of Level 3 glass-clad polycarbonate (GCP) glazing up 20 feet in the air. These are ballistic materials. They're thicker, heavier, and more dense. You must have those structural considerations in place."

Jim finds that glaziers and contractors who've never handled bullet-resistant materials before may fail to consider the increased weight of ballistic products.

"We've run into issues at times when we're talking to a contractor or glazier across the country working on a big job. We want to dig into the details, but they're impatient to get moving. 'Oh, no problem,' they insist. 'Just ship the glazing and frames. We'll take care of everything else.' Then they get our system and they're on the phone, panicked: 'Hey! This thing's bowing in the middle!' No kidding! GCP can run 16 or 18 pounds a square foot, compared to regular one-inch insulated glass, which weighs five to seven pounds per square foot. You've got to let us help you at the planning stage. If you're going up 20 feet, you need to add a steel beam or steel header or split that system up to distribute the weight. We have lots of ways to approach it, but you can't just act like weight isn't a meaningful factor."
Bulletproof Storefront and Curtain Wall Installation
These weight and design issues dovetail with installation woes.

"When we're doing a big curtain wall or storefront system, we have ballistic frames and glazing we have to ship to the job site. It has to be assembled and there's both weight considerations and staging considerations. We don't just have to design a system that will stop bullets. It also has to be a system that's composed of components that will fit through your doors and hallways, that our installers or your contractors can actually get off of a truck and into your building in order to put it together."

Some of TSS's most challenging projects have been because of the installation, rather than the project itself. TSS has the benefit of having designed, engineered, fabricated, and installed thousands of custom bulletproof curtain walls and storefronts over the course of decades. We're happy to help you not only get the products you need, but design a system that takes everything you need to be successful into consideration.
Planning a Ballistic Storefront or Bulletproof Curtain Wall Project? TSS Is Ready to Help
With decades of experience consulting, designing, manufacturing, and installing bulletproof systems, TSS knows how to help you avoid unnecessary hassles and headaches down the line—especially when you're working on a complex installation like a bulletproof curtain wall. If you have questions or want to get started with a specific project, send us a message. We look forward to speaking with you!