As late as the 1990s, consumers in need of fast cash or a small short-term loan had very few options: Banks wouldn't deal with them, non-bank lending was a relative rarity, and pawn shops were not an option for borrowers with no valuables to secure their loan. But in the past two decades, the small-dollar lending landscape has evolved considerably. Today, more than 19 million households American households take advantage of non-bank financial services. That's nearly a 60 percent increase in the last three years, with roughly one-fifth of the country now relying on non-bank institutions for occasional check cashing and payday lending.
According to Dartmouth economist Jonathan Zinman, U.S. cash-advance lending store locations outnumber McDonald's and Starbucks locations combined, for a total of somewhere upwards of 20,000 neighborhood lending and financial service stores. Even pundits who find short-term unsecured lending "unsavory" are quick to concede that cash advance and payday lending are filling a economic niche that traditional lenders, banks, and other service providers are loath to accommodate.
But with growing success comes increasing security concerns. "Cash is usually right there in the business name," Total Security Solutions CEO Jim Richards notes. "And for desperate people, a big glowing sign that says CASH is a big temptation."

Challenges in Bullet Proof Barriers for Non-Bank Financial Services
As Jim goes on to explain, "Over the past few years small-dollar lenders and other neighborhood financial services have really increased their footprint nationally–especially in underserved communities, where traditional banks don't often open new branches."
The challenge for these non-bank lenders is that, while they carry all the physical security risks associated with banking–large sums of cash on hand, high customer volume, and a need to maintain clear communication and close contact with those customers–they do not tend to have the deep pockets that banks have to beef up security.
On the one hand, as this industry has matured–growing both in size and importance–check cashers,
payday lenders, and other small-dollar financial services have moved away from being mom-and-pop operations like what you see to the right.
Meanwhile, as the small-dollar lending market has grown and diversified, competition and regulation has increase. Many such financial service providers now need to make their business work at fairly narrow margins.
Modern Bullet Resistant Barriers for Check Cashers and Small-Dollar Lenders
Total Security Solutions has decades of experience designing, engineering, fabricating, and installing bullet resistant security systems–doing everything from retail bank offices to government facilities, police stations, convenience stores, and gas station. Total Security Solutions has moved with the market as demand and threat-scenarios have shifted.
"The modern non-bank financial service business doesn't look like your old-style mom-and-pop check casher. It's upscale, a nicer environment for customer and worker, a better place to have as part of your community–and needs to look the part."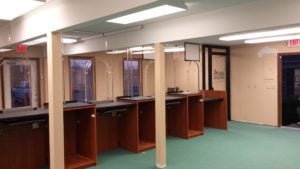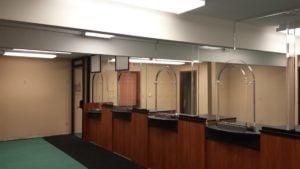 "We have a lot of experience building these sorts of installations. For example, we've done many projects for Advance America," one of the nation's largest consumer lending companies, with thousands of stores nationwide. "They really appreciate the consistency in the work and service level. Our systems arrive completely ready-to-install. For new construction, we can guide your existing team of contractors through the process. With a retrofit, we can either work with your local team, or bring in our installers. In either case, we can get most systems installed overnight, avoiding any break in your business routine."
Next Steps:
Sign up for our newsletter to stay up-to-date with the latest industry news