When we looked around the industry and the bullet resistant framing available, we weren't happy with the safety and protection levels we saw. That's why we decided to manufacture a proprietary framing system that offers our customers both a high quality solution, as well as one they could feel confident and safe using to protect their employees.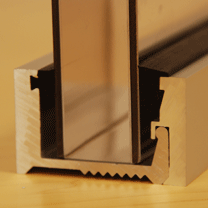 If you're interested in steel frames, the industry is pretty similar with its options. It's with the aluminum framing where you start to see clear differentiation. Instead of making the cost and development investments to manufacture a high quality frame, some bullet resistant barrier providers are content with putting a hollow aluminum tube with a glued piece of ballistic fiberglass inside the framing system. To put it bluntly, this is the easy way out and doesn't actually make the frame truly bullet resistant. If that type of frame is compromised with a bullet, it's very possible that piece of fiberglass will get dislodged, making its placement within the frame irrelevant.
We weren't comfortable taking this approach with our ballistic aluminum framing. We wanted to make sure our customers got the best quality, value, and safety level for their investment, so we manufactured our own aluminum framing systems. We understand the type of investment that is made when deciding to protect your people and we understand just how important it is to keep everyone completely safe. Because of this understanding, it's important to us that we produce barrier components that are better quality, and in turn are safer for the people who work behind them.
To make our UL Rated Level 3 Aluminum frame ballistic, we worked with the design of a standard architectural frame and increased the level of thickness of the aluminum. The thicker piece of aluminum makes it so the entire barrier is made of UL Rated material. If you're ever in a situation where gun violence happens with a barrier in place, you can't predict where the criminal will shoot. That's why it's important to use truly rated materials for your entire barrier system. If you need additional protection, our UL Rated Level 4 frame also has a piece of ballistic fiberglass manufactured inside the frame.
If you want to see our Ballistic Frames in action, check out the video below. If you have any questions, please don't hesitate to contact us.
Next Steps
Download our Product Catalog for more information about all of our framing options
Sign up for our newsletter for the latest safety and industry news
Check out our Free Resource Center for valuable information about bulletproof glass and bullet resistant barriers