Most security experts see 2022 as the Year of Doors and Windows. As the pandemic wanes and in-person returns, there's been a surge in interest in physical security, access control, and "smart buildings."
But there is a disconnect. Security integrators and physical barrier companies are seeing design after design meant to meet lofty goals—but which likely cannot actually be built as drawn.
This is especially the case in two key areas: bulletproof doors and bullet-resistant exterior windows.
Physical Security Trend: Door Hardware
According to Jim Richards, CEO of TSS, "We're seeing more and more crazy door hardware, more than we ever have before." These include new styles of automatic openers, automatic closers built into the floor; electric strikes installed in the head jamb (as opposed to the door frame, or using an electric crash bar); countless types of card readers; and three-, five-, and seven-point locking systems "like a bank vault door."
Jim explains, "I think that as the technology has taken hold, and people are realizing the things that are out there, they're getting excited and wanting to utilize it. But what you need to recognize is that these are almost always designed assuming you are using a standard door or something very similar. Meanwhile, most bulletproof exterior doors in offices, government buildings, and schools are a lot heavier and a lot thicker than a standard glass storefront door. The door framing for a ballistic door also has different dimensions than standard framing. So, a lot of this newer technology simply will not fit a ballistic barrier door."
And if it does fit, will it be able to operate on a heavier door? And will it withstand the test of time? An electric strike designed for years of abuse on a 100-pound exterior storefront door will not necessarily cope well with the same amount of pushing, pulling, and slamming when the door is four times heavier.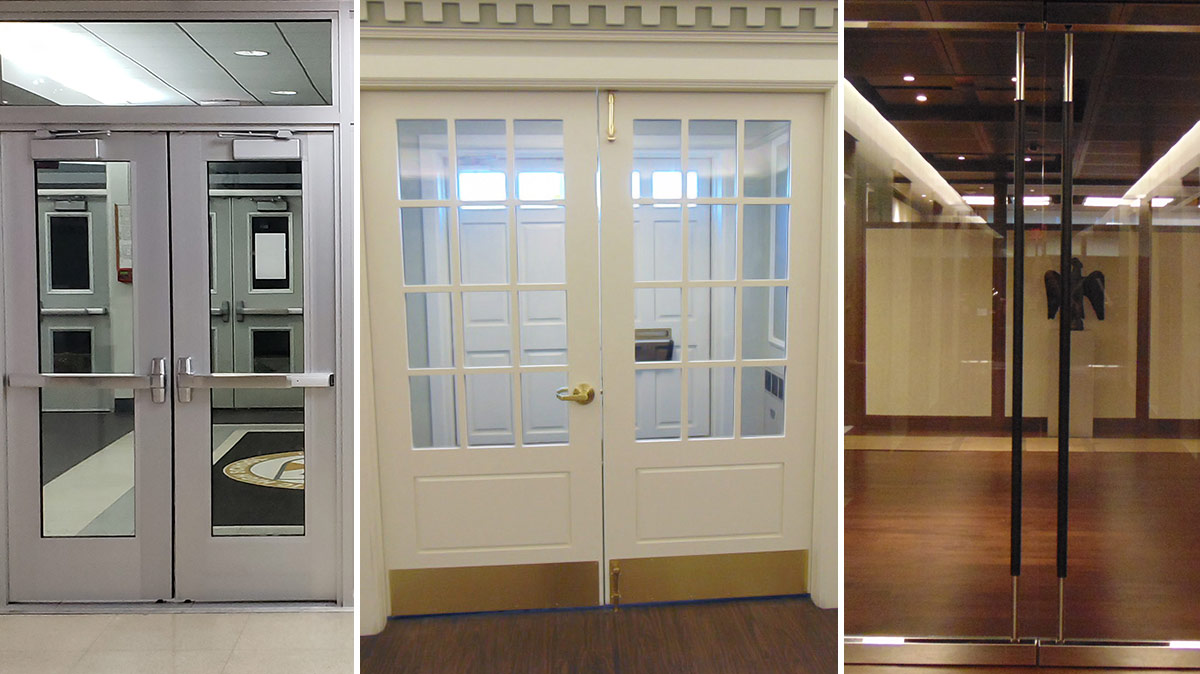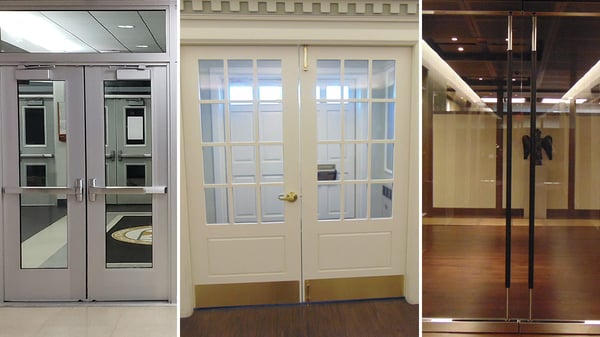 Physical Security Trend: Custom Exterior Glass Makeups
A glass "makeup" refers to the composition of the transparency itself. That could be a single glass lite (called a "monolithic" makeup). Or it could have layers of glass, thermoplastic, and other materials. Altering the makeup—adding different materials, interlayers, thermal gaps, and so on—transforms how the glass performs, increasing privacy, energy efficiency, security, and more. Although some "bulletproof glass" is still just sheets of monolithic acrylic, most of the ballistic glass installed in recent years is a laminated product, with a variety of makeups available (including tints, reflective coatings, insulated glass, and layering to increase blast- and forced-entry resistance).
But over the last few years, many glass manufacturers have significantly expanded their capabilities. They are offering many new and custom makeups. Many of these make it possible to meet higher efficiency and LEED expectations (Leadership in Energy and Environmental Design rating system) in a broader range of settings. Architects have taken notice, and now often specify complex combinations of insulated, tempered, thermal, and low-emissivity (low-e) glass, with specific gaps and gas-fills, tints, or dynamic interlayers.
Theoretically, you could take any of these custom makeups and adapt it to any transparency. But in practice, that simply isn't the case because of the weight and thickness of ballistic glass.
"We understand the desire and need that's driving this," Jim says. "Meeting certain LEED or carbon-neutral goals is really important to many organizations. But when it comes to physical security, first and foremost that glass has to stop a bullet. You can get nearly any custom makeup you could imagine, but it still has to fit securely in frames. You can only do so many different makeups of air gaps and tints and still have a window that can fit in a frame and be installed."
Physical Security Reality: You Can't DO Everything You Can DRAW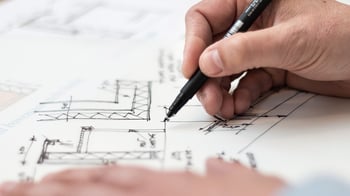 Both of these trends point to the same root cause: a disconnect between the design process and the real-world execution of that design. If anything, two years of pandemic has made this worse. Designers and architects have been visiting fewer sites and interacting with fewer people from fewer fields and trades. When you design under these circumstances, it can be easy not to realize what you aren't taking into account.
Jim and his team have seen an increasing incidence of this. "I was just looking at a Level 4 door" (which is rated to stop shots from a high-powered rifle). "The design had one-and-three-quarter-inch rails left and right, and four-inch bottom and top. What they wanted was an all-glass door look, because you can't make an all-glass door with Level 4 materials. So they'd just minimized the stiles. But the glass itself is heavy, almost three hundred pounds by itself. Those skinny rails literally could not hold together under that weight."
Physical Security Advice: Bring Practical Experience to the Materials Before Committing to a Design
Jim was likewise just looking at a job where the design called for a 6-foot-tall Level 4 barrier mounted on a wooden countertop.
"These were four-by-six sheets of ballistic glass. Each one of those pieces is nearly 400 pounds. On a wood countertop." That's the same as parking a motorcycle on the counter, in terms of weight.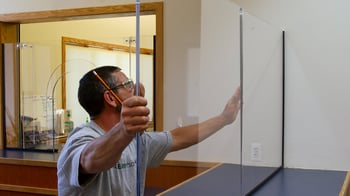 "If they'd just ordered the glass, without talking to someone about the design, it would have been a mess once it arrived. That's the thing people consistently don't estimate or understand: the weight of the product. I see a lot of stuff out there, and I can see that it probably looked neat in a drawing. But once they started building, they kept having to make changes to compromise for all these things they didn't know. They end up with a barrier that doesn't work well or look good in real life. At TSS, we have decades of experience. We can catch these issues early on if we're involved early in the project, and help people find a better way to get the result they want."
If you have a project in mind, contact a ballistic expert now, to be sure there isn't a little detail waiting to become a huge headache.