Client performance goals continue to evolve, growing more complex every year. At one time, a client was either very concerned with security, or very concerned with sustainability. It was rare for a client to be equally concerned with both.
But the increasing need for ballistic materials in all sorts of construction has collided with the increased stringency of building codes, specifications, and energy performance standards. Old-line ballistic framing systems—which are still the industry standard—are simplistic. They are fabricated from a grab-bag of materials to a variety of standards. Many aren't even UL-rated to stop bullets. Instead, they are cobbled together from standard aluminum frames packed with chunks of bullet resistant fiberglass glued in place. Enhanced R-values, thermal breaks, gas fills, and insulation are just not an option with traditional bullet resistant window and door frames.
Today, advancements in designs and fabrication techniques have resulted in not only standard, true UL-rated door and window frame systems, but also premium systems offering new levels of thermal and ballistic performance.
Thermally Enhanced High-Security Ballistic Door and Window Frame Systems
A security-conscious end-user might be interested in earning a LEED Platinum certificate, or might be passionate about daylighting, or might just want to keep the energy bills down—in any case, having a solid aluminum frame conducting heat directly through the building envelope doesn't serve any of those goals. The TSS Thermal Frame System does.
"We developed this ballistic frame system specifically because architects were asking for it," Jim Richards, CEO of Total Security Solutions (TSS), explains. "I don't know if you know, but buildings use more than half the energy on earth."
As one architect recently put it "for all practical purposes, all other issues are subservient to sustainability now." That's been beyond challenging with old-style exterior bullet resistant windows, since the windows themselves are solid—no gas fills—and the frames are rarely built with any sort of thermal break. For example, here's a cross-section of a traditional window frame: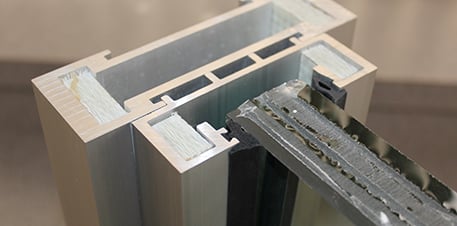 The old-style frames are solid steel or aluminum members all the way around the window or door, penetrating the exterior wall. As Jim Richards is quick t point out, "Think about what that means in certain regions of the United States: In the summer it could be in the 90s, and in the winter it could be 30 below, but the inside of that building is always 72 degrees with 40 percent humidity. Your HVAC is fighting heat leaking in all summer, heat leaking out all winter. You're not just going to have cold spots and drafts. You're going to get condensation, even frost."
TSS's thermally improved, bullet resistant exterior aluminum door and window frame system is calculated to optimize R value, given the needs of a bullet resistant materials. It offers bullet resistance up through UL Level 8, and can accommodate a wide variety of acrylic, polycarbonate, and laminated bullet resistant glazings. "It's an enormous performance boost, in terms of energy, and ballistic—a true 'best of both worlds' scenario."
All-in-One Multi-Threat Ballistic Window Frames
"This isn't your everyday, run-of-the-mill frame," Jim says of the TSS AIO (All-In-One) Frame. The AIO is a modular, multi-threat glazing frame optimized for higher-threat situations, especially government applications. It can accept any glazing between .75 and 2.5 inches thick—that's everything from UL Level 1 acrylic (i.e., which stops three shots from a .9mm pistol) to Level 8 glass-clad polycarbonate (for blocking full-auto bursts from assault rifles). The frame itself is rated through Level 8, and also has forced entry and blast-resistance characteristics. The AIO Frame has a broad security and safety profile that encompasses all sorts of threats to life and property, from break-ins and riots to lone gunmen, terror attacks, and even extreme weather.
Rather than using a lighter aluminum backed with strips of Kevlar® based fiberglass paneling, Jim and his team opted for all-aluminum construction and a design that takes full advantage of the edge-on resilience of the glazing itself. The front-wall of this frame is hearty enough to deflect most calibers, and designed to capture and hold any high-power rounds that do penetrate the frame itself.
Of course, not every job calls for premium ballistic door and window frames. TSS continues to offer their full line of standard UL-rated and non-rated frames to meet your client's performance goals.
Next Steps:
Sign up for our newsletter to stay up-to-date with the latest industry news

DuPont™ and Kevlar® are trademarks or registered trademarks of E.I. du Pont de Nemours and Company