Stainless steel has become increasingly popular in both interior and exterior architectural applications because of its corrosion resistance, appearance and durability. While the recent trend in architectural applications has leaned toward more reflective stainless steel façades, it wasn't always that way. In the mid-1980s, the use of dull polished finishes was more prevalent, but they proved to be less resilient to corrosion. As a result, it is more common for stainless steel to be left in its natural matte state, polished to a mirror-like finish or brushed. The high-polished stainless steel finish has become quite popular as a way to make a contemporary mark on the landscape while respecting the context of the existing architecture.

High-Polished Stainless Steel Reflects Historic Architecture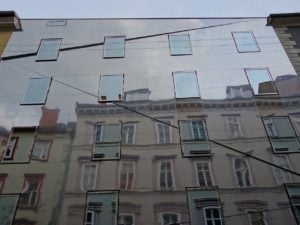 In 2013, Austrian-based Hope of Glory was met with the challenge of designing a residential building that seamlessly integrated into the surrounding historic architecture, as well as adhered to the strict historic preservation guidelines. They responded with a simple high-polished stainless steel exterior with an asymmetrical front sloped roofline to align with each side's adjoining structure. The new building appears to be perfectly slotted into the available space and the mirrored exterior reflects the traditional architecture nearby, softening the appearance of its own sleek façade.
Zaha Hadid used high-polished stainless steel as the main exterior material for the new Investcorp Building at the University of Oxford. The building was given its scale to align with the existing buildings on campus and its smooth curve to avoid damaging the roots of an old Sequoia tree. Once again, the mirrored finish enables the building to reflect the historic architecture of the campus buildings, while still making its mark as a contemporary structure.
High-polished stainless steel was also used to clad a recent cantilevered cube addition completed on the Lillehammer Art Museum and Cinema in Norway. This very distinctive cube appears to float as it sits atop a space featuring floor-to-ceiling windows. The high-polished, crinkled stainless steel façade changes its appearance as it reflects the light and surrounding environment.
In recent years, China has been in a race with itself to build the world's longest and highest glass-bottom bridge. It now seems that China has hopped on board with the reflective stainless steel trend as well and has laid out plans to build a "transparent" bridge. The bridge will be clad with high-polished stainless steel panels intended to reflect the surrounding mountains. It will look as if it disappears into the landscape. This new bridge will be built in the same city as the Zhangjiajie Grand Canyon Glass Bridge, but no date has been set for its completion.
Next Steps:
Sign up for

our newsletter

to stay up-to-date with the latest industry news
Photo courtesy of www.pixabay.com