There were 22,000 gas station and convenience store robberies in 2021, making them the third most common location for a robbery in the United States, according to the FBI. About 5% of all violent crime in the United States occurs in a gas station or convenience store—around 32,000 acts of violence each year. Given these alarming statistics, protecting gas station workers who are on-duty during these violent attacks is more important than ever.
Keep Your Gas Station Safe Using a Systems Approach
Using a systems approach, we examine threat level, how workers will use the barrier, aesthetic, and threat level to design a bulletproof barrier system. This approach allows gas station workers to be truly protected rather than just relying on a single product to keep them safe—especially during long nights when gas stations and convenience stores need to remain open.

"By adding some sort of over-the-counter protection, you can keep the doors open and keep your people protected," says Paul Batista, TSS Senior Account Manager.

Budget is another factor that TSS designs systems to accommodate. For example, TSS often uses non-rated, acrylic louvers in areas where ballistic security isn't required. This design choice eliminates the need to rebalance HVAC systems or reroute ductwork, minimizes the costs, and maximizes sight-lines and natural lighting.

"We always strive for the most minimal intrusion possible. In each one of these convenience stores, we design around what they have and what they need," Paul says.
Common Gas Station Security Barrier Systems Elements
Gas station barriers will vary based on needs, budget, and threat level. However, most bulletproof barriers in gas stations and convenience stores include:
Bulletproof Glass and Transaction Windows
Bulletproof glass encasing the sales counter and a transaction window that facilitates easy communication are common in many convenience stores. Many gas stations and convenience stores also chose to use sliders that can remain open when the threat level is low, and closed when the threat level is high.
Package Passers and Currency Trays
Cash trays, lazy Susan rotary passers, or package passers are used to accept payment and pass purchases of high-value items stored behind the counter.
Bulletproof Doors
A ballistic door with locks and access control prevents workers from accidentally getting locked out of the register area and automatically locks when they enter.
Exterior Transaction Windows
Some states require 24-hour retail operations to have at least two workers present after hours if the workers and customers interact directly. In order to safely have only one person work, some convenience stores close the interior and complete all sales through a secure exterior transaction window. In these situations, we can create a secure passer on an exterior wall so workers can operate safely through the night.

Using a Systems Approach to Deliver Uniform Safety at 14 Gas Station Locations
TSS recently worked with a large, regional fuel retailer to help them secure 14 of their locations. These mid-sized convenience stores featured:
Roughly 5,000 square feet of retail space
12-foot ceilings
24-hour operation
A long counter area
The long counter area needed to be maximized for sales and showcase high-value retail items behind the counter. In addition, the barrier requirements included:
A full enclosure, so no one could throw anything over the barrier at a worker
A thin profile to preserve counter space
Maximum visibility and communication
A consistent look across all of their retail locations
The biggest challenge we faced was the ceiling height. A nine-foot tall bulletproof glass barrier wasn't in the budget, and likely would be too heavy for the counter to support. Many bulletproofing companies would simply build a three foot soffit above the retail counter—but that was not the aesthetic this fuel company wanted.

Instead, TSS engineered a solution with ballistically-rated glass at counter level and a non-rated louvered acrylic panel stretching from the top of the ballistic window to the ceiling.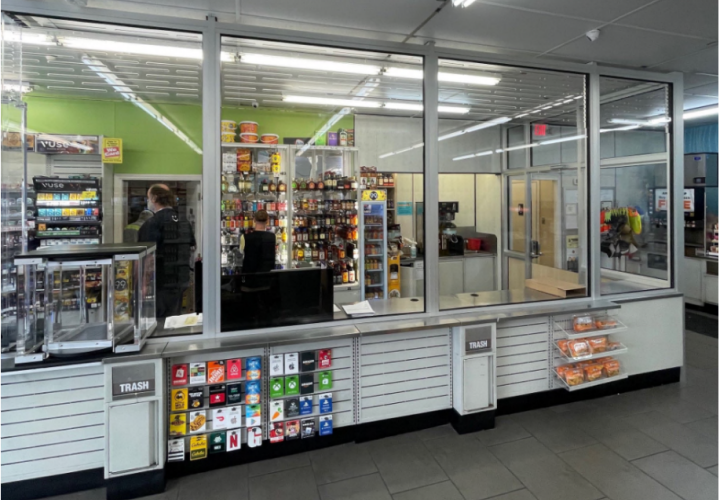 "That was a great solution," Paul Batista notes. "It makes the barrier seamless. And, we didn't have to reposition air conditioning ducts."

Plus, TSS was able to complete all 14 of these visually consistent custom installations in only 10 business days.
Let's Work Together to Improve Security at Your Convenience Store or Gas Station
Looking to improve gas station security? TSS can help you balance aesthetics, security, and business needs. Contact our ballistic security experts if you have questions, want to get started with a specific project, or request a quote.