An increasing number of businesses and organizations are worrying about how they'll manage their reopening. As we've explored in past articles, the "new normal" for workplace security and safety is complicated by the broader pressures straining our economy and country over the last several months.
"We've always believed in helping people find a total security solution," explains Jim Richards. Jim is the CEO of Total Security Solutions and has roughly thirty years of experience in physical security. "When we started TSS nearly two decades back, 'total' security mostly meant custom-cut ballistic glass and bulletproof fiberglass, mostly installed in banks and gas stations. But as the workplace realities have changed in America, 'security' has moved past stopping bullets—and so have we. TSS is about doing what it takes so that people can feel totally secure—at their work, their school, their community center, or their house of worship."
"Just the Basics" to Fully Integrated Systems
When it comes to safety and security, every single location is unique. Two branch offices of the same organization—buildings with the same floor plan, staff with the same training—can have wildly different workplace security challenges. This is why TSS has never strayed from their roots: designing, engineering, fabricating, and installing custom barrier systems and security solutions.
"We always want to meet the customer's needs," says Richards. "If they pull in a local contractor and architect, those folks will want to handle the design. We're very comfortable supporting them. But if [that organization] wants to work directly with us, we have a really deep bench when it comes to design and engineering. And, of course, installation. We specialize in overnight and weekend installations; no interruption to business or operations."
That said, decades of experience means seeing (and solving) the same fundamental problems over and over again. This has given TSS the opportunity to develop their own line of pre-fabricated solutions. These include a full range of ballistic doors, windows, and other components that ship ready to install.
Even the "Off-the-Shelf" Components are Custom
Nonetheless, even the most basic components—like a single bullet-resistant door—are still fabricated entirely in-house. In part, this is simple practicality. Pre-fab parts sourced from multiple overseas suppliers will never have the tight fit and finish that TSS knows is vital to a smooth barrier system.
"Too often, people look at security as a fix that can be dropped in place. They treat it like swapping out a leaky valve or adding a skylight," Jim notes. "That's just not how we've ever treated it. A ballistic barrier—even something as simple as a set-in-place transaction window—is still a system of components. And it has to mesh with all of the other components of your overall life safety system and workplace security plan: Access control, cameras, public address, fire suppression. Even things like HVAC. You might not immediately think of that as part of your security system. But if you just add a bunch of ballistic windows and dividers, splitting up rooms without thinking about how that impacts heating and cooling, you'll end up with your own people undermining your security, leaving doors propped open for fresh air."
"Stealth" Workplace Security Barriers
At one time, if an organization was investing in a ballistic barrier, they wanted it to be extremely obvious. Banks, municipal offices, county jails—they wanted every visitor to be aware of the layers of security at work.
That's not necessarily the case any longer. Increasingly, organizations are looking to increase workplace security without tipping their hand. In response, TSS has become adept at matching style and decor, seamlessly swapping in a bullet-resistant replacement for an existing door or other fixture.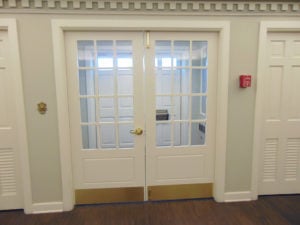 "This is the kind of custom work we can do on a one-off," Jim says. "When we built these a few years back, no one in our industry had ever done doors like these. Those door lites aren't individual panes. Each door has a single piece of monolithic acrylic. These are visually divided by false muntins that we built from scratch, precisely blended to the surface of the door. The door itself is backed with bullet-resistant fiberglass, and also conceals access control devices integrated with the building-wide system." They can stop three (and often more) shots from any pistol up to a .44 Magnum, and also carry a light forced-entry rating. Most importantly, they look exactly like every other set of doors in that building.
Safe Rooms for Safer Workplaces
Similarly, an increasing number of organizations—from conventional workplaces to non-profits, religious organizations, and schools—are looking at "safe room"/"panic room" conversions.
"In a way," Jim explains, "It's no different than preparing for a tornado: Building owners are looking at hardening conference rooms and other spaces on each floor. They're creating designated safe spaces. This gives those building occupants options in an emergency."
TSS can convert almost any space into a safe room. "It could be a storage room," Jim says. "It could be a copy room, a conference room—it could be anything. We're able to create areas throughout the building where the employees can shelter. You can have a space that's an attractive, normal meeting space daily—but also a life-saving safe room if the worst comes to worst."
New Solutions for Evolving Threats
School security has become an increasing concern globally—and accounts for a correspondingly larger portion of what TSS does on a daily basis. But some traditional bullet-resistant materials weren't a great fit for schools. As a response, TSS recently released DEFENDER Ballistic Insulated Glass. This is an insulated indoor/outdoor "vandalism-resistant" security window glazing. It carries both a UL bullet resistance rating and demonstrated forced-entry resistance.
Instead of relying on thermoplastics (as with traditional bullet-resistant windows), DEFENDER is an all-glass security window glazing. It's been specially annealed and laminated to make it harder and stronger, while retaining the glass's impermeability and chemically inert qualities. It can even be customized with tinting and Low E enhancements.
"This is an all-around performance security window glazing," Jim says. "In contrast to traditional security glazings, which are optimized to meet one specific security goal, this product is good in many situations. It's the first time we've been able to make something like this available. It's a security window material that really is suited to everything that goes on at a school, community center, or house of worship—both in an extreme situation, and on a daily basis."
Likewise, as clients have asked for solutions to help them move forward during the global pandemic, TSS has worked with their designers and engineers to pioneer new fixed and mobile safety systems like VirusGuard barriers.
Building Total Workplace Security Solutions
"A year ago, if you'd told my workers 'Listen: we're going to be 'essential' when a global pandemic stops this country in its tracks,' they would have looked at you like you were crazy. But they're living it every day now. And it isn't surprising. This is just one more threat we hadn't really imagined before it came, and so reducing that threat is one more part of building total security solutions for our customers."