Team TSS was thrilled to connect with architects from across the country at the 2023 American Institute of Architects (AIA) Conference on Architecture expo in San Francisco, California. We were one of 475 exhibiting companies; 15,000 people attended the conference! One of our engineers and two of our seasoned ballistic experts represented TSS at A'23 to answer questions and network with expo attendees.
AIA is an industry-leading organization, advocating for the value of architecture and "giving architects the resources they need to do their best work." Their annual conferences are "where the AEC industry gathers to define, design, and connect across industries to build the future." It's one of our favorite events to attend. That's why, this year, we decided to pull out all the stops. After hours of hard work, we officially debuted our new product display!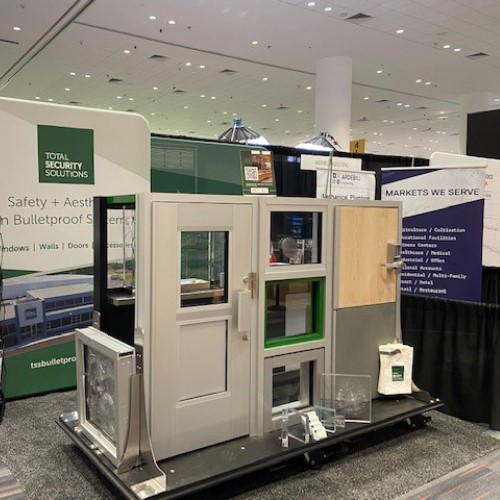 This all-in-one display allows our team to demonstrate just about every TSS offering you could ask for: transaction windows and accessories, fiberglass and custom finishes, doors, and more. It's not often that architects and designers get to see the ballistic products they design with. Giving them real-life examples and resources is a huge step for advancing safety and security in building design. The display was a huge hit and we were proud to offer attendees a hands-on experience with high quality ballistic materials.

In addition to the show-stopping display, we shared some of our most in-demand resources with the AIA attendees: our Bulletproof Glass and Bullet-Resistant Barriers continued education course (that is approved for AIA, ICC, HSW and 22 others) and access to our product specification sheets (digitally available on our website). And of course, we made sure to hook booth visitors up with TSS swag!

We'd like to extend our deepest thanks to everyone who made AIA'23: from headline speaker the Right Honourable Dame Jacinda Ardern, to our fellow expo vendors, to everyone who stopped by to say hello. AIA'24 will be held June 5 through 8 in Washington, D.C. and we're already looking forward to it. Will we see you there?