Modern. Clean lines. High Visibility. Upscale. Bulletproof. Which one of these doesn't belong? While there is a strong perception that beauty and security cannot go hand-in-hand, attractive bulletproof barriers are totally possible.
In some situations, a more pronounced bulletproof barrier design is exactly what the space and company requires. If that's what your facility demands, we can achieve it. At Total Security Solutions, however, custom, detail-oriented jobs are where we truly shine.

Balancing Design and Bulletproof Security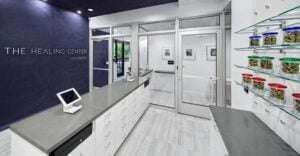 The Healing Center of San Diego challenged us to maintain a light airy feel in the design while achieving the desired security. A solid partnership with Element Construction ensured no detail was overlooked. The space features multiple access control points linking the showroom, the administrative area, and the lobby. We also supplied ballistic fiberglass for the storefront walls. The final result is a peaceful setting, both in its physical space and the peace-of-mind knowing employees and patients are secure.
The corporate headquarters of Brown-Forman is another shining example of an upscale bulletproof barrier design. Oversize bullet-resistant glass panels are butt-glazed, eliminating visual barriers and conveying a more high-end appearance. Applied graphics further elevate the design. Despite the need for a bullet-resistant barrier to secure the lobby area, visitors still feel welcome thanks to the minimalist design.
Visually Enhancing Bulletproof Glass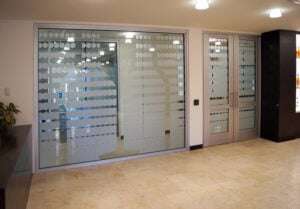 The small design details on a project can make a major difference in the overall aesthetic. While bulletproof glass has some design limitations, it can be frosted or tinted. By adding a colored polycarbonate cap sheet as the outer layer of the security glass, the color of the glass can be changed. Similarly, a film added in between the layers achieves a frosted appearance. For outdoor use, glass-clad polycarbonate is also available with a mirror finish.
We enjoy working with architects to push the limits of bulletproof glass and achieve their vision. We are experts in bulletproof glass and the details are our specialty. Even if you have worked on a project with a bulletproof barrier before, each project is unique and we recognize that. Let us help you assess, design, and install a bulletproof barrier that doesn't just secure a facility, but adds to its beauty.
Learn more about how Total Security Solutions partners with Architects and view our Architect Projects Gallery.