School safety and security remain a top concern for parents and children. A Gallup poll released one year ago placed both at a 20-year high.
Violence in schools—already rising since 2015—accelerated as schools returned to in-person learning following the early stages of the COVID-19 pandemic. This trend in school violence has yet to show signs of faltering. According to the Center for Homeland Defense and Security's K-12 School Shooting Database, by mid-2023, there had been 168 shooting incidents at American schools. The Center for Homeland Defense and Security has projected that, at this pace, there will be 412 shootings by the end of the calendar year. For context, that is more than triple the number of shootings in the last full pre-pandemic school year.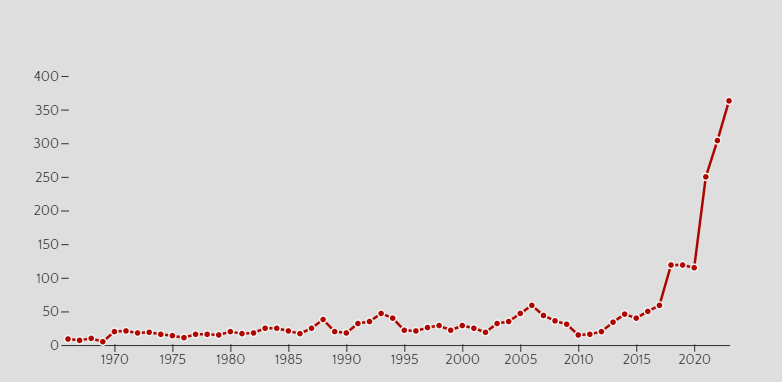 Image source: https://k12ssdb.org/
TSS CEO Jim Richards has spent decades supplying bulletproof glass for schools and other vulnerable locations.
"I recall looking at these numbers back in 2018 and finding it sobering to see school shootings resulting in injury or death had become a weekly occurrence in the United States. But this, it's almost unimaginable to see a graph like this."
Drawing on his decades of experience, Jim sees four key trends in ballistic security barriers and bulletproof glass for schools in 2023.
Trend #1: Level 3 and Higher Bulletproof Windows for Schools
In the past, schools might have chosen from a fairly wide range of lower-level ballistic glazings and non-rated "security" glass. In the last several years, they've gravitated toward higher-level ballistic glass capable of stopping more shots from a wider range of firearms.
"It is changing and evolving a bit," explains Jim Richards, CEO of TSS, "but I would argue that the core is now Level 3 GCP or LP1250. I would say that's now 80% of what we're doing for schools."
Both LP1250 ballistic polycarbonate and glass-clad polycarbonate (GCP) bulletproof glass are laminated materials built on a polycarbonate base with additional layers of tempered glass and/or acrylic. Combining these materials offers a balance between good light transmission, aesthetic flexibility, and performance and allows for many more options (such as reflective glass, one-way mirror glass, translucent or tinted interlayers, and so on).
GCP offers the further advantage of the durability of an outer layer of glass. As Bob George, a senior consultant with TSS, points out: "In a high-traffic area in a high school, a thousand kids are going to put their hands on that glass every day. A glass-clad product [like GCP] will stay looking good much longer because of the hardness of that glass outer layer."
Trend #2: Enhanced Doors and Exterior Storefront
TSS has been seeing increased interest in higher security exterior doors and storefront entryways in schools. This has been especially true since the March 2023 school shooting in Nashville. Widely reported security camera footage from that event demonstrated how little security a locked commercial glass door offers when confronted with a firearm.
Gregg Knappe, a national account manager with TSS, notes, "We're definitely fielding more inquiries for doors and storefronts with higher levels of protection. Levels 4 and 5 are happening more to protect against high-powered rifles."
As a practical matter, most Level 4 and 5 materials and system components implicitly offer some blast and forced-entry resistance, even if they aren't rated for such. A good Level 4 or 5 door that is both forced entry and ballistically-rated will prevent entry for an extremely long time, even after being shot. TSS's Level 3 steel bulletproof doors famously withstand hundreds of shots from a variety of pistols and rifles, even though they are technically only rated for three shots from a .44 Magnum.
TSS's LP 1250 All-Poly—one of the most popular types of bulletproof glass for schools—has passed WMFL Level 3 testing. This verifies that the glass will remain intact even after being shot with 24 rounds from a .44 Magnum and then battered for 60 minutes with a claw hammer, cold chisel, sledgehammer, iron pipes, rebar, and a fire extinguisher, then burned with a propane torch.
Schools are also increasingly interested in Level 4 and 5 GCP exterior windows, which provide similar benefits to interior GCP. Along with protection from any handgun and the vast majority of high-powered rifles, they're more resistant to attempts at vandalism and burglary and more durable against the elements.
Trend #3: Vestibules and Storefronts
A decade ago, TSS pioneered a new approach to school security: the secure vestibule.
"We still are doing a lot of vestibules," Jim notes. "Limiting access to the building to that one centralized point and then making sure that point of access will slow or stop an attacker, that's proven to be so important, especially in recent years."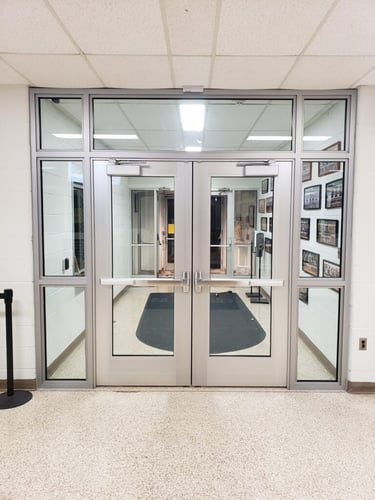 The trend TSS has been growing over the last several years—one which Jim expects to continue—is in pushing security further past the vestibule.
For example, most large modern or renovated school buildings already use interior floor-to-ceiling glass-partition walls and interior double doors at the ends of hallways. These allow greater flexibility in how the space is used and make the interior environment more efficient (in terms of HVAC, natural light, etc.) These partitions also play an important safety role by preventing the spread of fire.
"Now, in addition to securing their vestibule, schools are putting in interior curtain walls and storefront dividers within the building. The partition walls are already there. They're part of how that building functions. They're just removing them and making those bullet resistant so that there are multiple kinds of stop points throughout the school. From a security standpoint, they're really embracing the same sort of compartmentalization they already do for fire safety."
Schools have likewise increasingly replaced some interior doors in central locations (like meeting rooms or offices) with more robust bullet-resistant doors crafted to match the existing doors throughout the buildings. These can then serve as "panic rooms" in case of emergency.
Trend #4: Customization
There is no "standard" school layout; every building meets the unique needs of a unique community, evolving alongside that community over many years. As a result, there is no "one-size-fits-all" cookie-cutter solution when it comes time to bulletproof glass for schools.
TSS clients benefit from Jim Richards's decades of experience in ballistic security and TSS's deep institutional knowledge when working with ballistic materials and creating custom systems that provide enduring security without creating headaches and hassles.
"That's always kind of set us ahead," Bob George notes. "We can do more custom work because we don't have as many restrictions and limitations. Jim grew up in this industry doing this work himself and so on our production side, he really trained them. We still have a lot of core guys that have been here a long time and know their stuff. No one else really has the capabilities we do, because they don't have that experience base."
For example, most bulletproofing companies will wire access control systems through the door frame, a relatively easy approach. But if you want electric panic bar double doors (which are much better for high-traffic buildings like schools), you need to be able to route power through the door itself. This requires something more advanced like this through-hinge EPT ("electric power transfer"):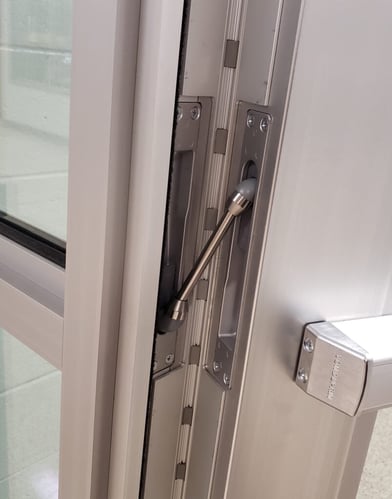 "We've been doing more and more of this," Bob George explains, "both because running power through the door rather than the jamb is the better solution and because we have the people and expertise to deliver a better solution."
Ready to learn more about bulletproof glass for schools? Have questions about how to protect your school? Want to get started with a specific project? Please don't hesitate to contact us.