"Government offices" are a category that covers an astounding range of buildings—from tiny Kentucky utility offices to huge urban city hall complexes in historic structures. Whatever their footprint, the local, municipal, and federal government buildings and their workers are increasingly finding themselves the targets of threats and violence. As Total Security Solutions sales manager Bob George has often observed, "Maybe we just hear about it more, because of the news, but these days it seems like people are just ready, at the drop of a hat, to get in a huge argument and do something irrational."
More concerningly, the last several years have seen a sharp rise in anti-government extremists targeting public offices. And, increasingly, they seem to be selecting "soft targets," focusing on that small rural utility office instead of the big, high-profile New York City courthouse.
For example, over the last several years, extremists have been targeting public utilities. This included hundreds of assaults on the power grid, culminating in a string of attacks in December 2022. Those attacks took out two North Carolina power substations (leaving 45,000 people in the dark) and a similar Christmas Day attack in Washington State that left 14,000 civilians celebrating the season with no power.
This is on top of the threats they already face. Municipal offices have long borne the triple burden of being workplaces (and thus sites of workplace violence and spillover domestic violence), ideological targets for anti-government extremists, focuses of civil unrest, and places of heightened tensions as individuals deal with the fallout of arrests, lost benefits, unpaid utility bills, and other misfortunes.
Now more than ever, public servants from state officials all the way down to local utility payment offices are taking a fresh look at their safety and security.
Taking a 'Whole System' Approach to Municipal Office Security
A "Systems" approach to security doesn't just focus on individual elements—this window, that door, these walls—but on what it takes for people to function safely and securely in that building. As such, it is similar to the "All-Hazards" approach, although more narrowly focused on security and threat response.
The Systems approach starts with an assessment focused on protection, peace of mind, and understanding each specific office's functional day-to-day realities.
For architects, contractors, and vendors working with a municipal client, the following four steps are a good place to start:
Identify the vital activities — What do the building occupants and visitors need to get done on a daily basis? Where do they need to go? How heavy is traffic, and how does that vary throughout the day/week/month?
Identify the threats — How might building occupants or visitors be harmed? (In most cases the receptionist or clerk at the front desk will be able to give ample examples based on their own experiences)
Identify the vulnerabilities — What does it take for that threat to get from the parking lot to a space where they can do harm?
Determine what systems you can put in place so that vital activities continue smoothly, but threats will not be able to take advantage of vulnerabilities.
According to Bob George, "After protection and peace of mind, it always comes down to three things: budget, aesthetics, and being able to communicate across the barrier. And, of course, installation times. A town hall or utility office can't just close up shop. They have a responsibility to be available and meet their community's needs. So these are the factors you'll need to balance."
Typical Ballistic Security of Local Government/Municipal Offices
Every municipal ballistic system is unique because each city and its buildings are unique. Nonetheless, there are several typical features.
Most modern government building security and utility office security barriers are rated at UL Levels 3 through 5. (For context, a Level 3 system will stop multiple shots from any common pistol. A Level 5 system will stop multiple rounds from any pistol, as well as shots from high-powered rifles and assault rifles.)
These systems are usually a "teller line" (so-called because it was first developed for securing bank teller lines). This may be a "fixed opening" system (ie., one where the counter space and wall opening are smaller than a home window). Or it can be a "large area" (i.e., longer counters with multiple clerks or stations).
In either case, an existing reception/clerk counter is outfitted with interior ballistic glazing held in ballistically rated frames. The counter itself is outfitted with an appropriate currency tray or passer for document and payment handling. In most cases, a standard passer or currency tray will suffice. But companies like Total Security Solutions are also adept at engineering completely custom window and passer solutions for unique situations.
The counter (and, in many cases, some of the surrounding drywall) will be reinforced with bullet-resistant fiberglass panels. Doors leading from the unprotected zone to the protected area will be UL-rated ballistic doors.
Although not yet "typical," an increasing number of government building security installations are also investing in vestibules and checkpoints.
"A custom solution we did for the Duberstein Courthouse [in Brooklyn, NYC] is a good example," according to TSS co-founder and CEO Jim Richards. "We often do vestibules and checkpoints like this in government buildings. That's part of our 'Whole System' approach to security."
Ballistic Security Trends for Municipal Offices: Backglazing
This "Whole System" approach to government building security increasingly includes adding exterior ballistic windows, as well as barriers within the building.
"There was a municipality in Indiana," Bob George recalls, "that had some offices pretty far out in the country. Someone in the community was 'kinda disgruntled' and decided to sit out with a sniper rifle on top of this big hill across the road, and he was shooting at their building. They ended up arresting him, and it didn't go any further. But they were frightened because frequently it's just a single receptionist in that little building. And that comes up quite often: there are just one or two people in a little office, and that's extremely vulnerable."
But exterior windows are often challenging to reinforce because so many municipal offices are older, and sometimes historic, buildings.
The solution is "backglazing." With backglazing, you install a layer of ballistic glass inside the existing window, creating a transparent backstop to catch bullets without disturbing the exterior of the building.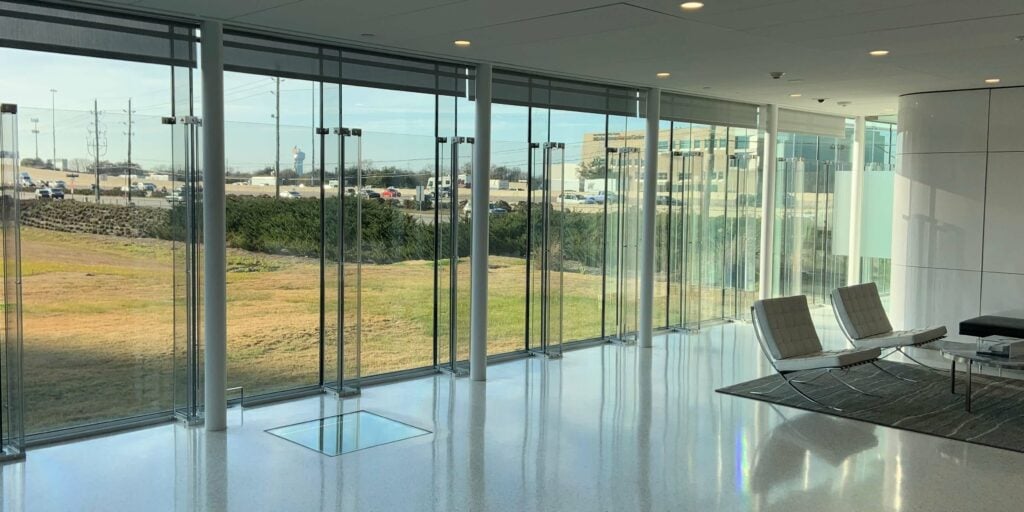 Over the last several years, TSS engineers have developed a new standardized Removable Backglazing System that works in any building. This system reduces lead times and costs while improving window performance and easing maintenance.
The cost and installation savings are especially pronounced when backglazing upper story windows. Replacing such exterior windows with bullet-resistant glass would otherwise require riggers, cranes, street and office closures, special permits, and coordination with multiple city agencies and services. In such cases, the TSS Removable Backglazing System can easily shave 25% of a project cost in ballistically securing upper-story windows.
Working with Teams for the Best Security Solutions
"What you need to keep in mind," explains TSS CEO Jim Richards, "Is that even with a seemingly small municipal or local government project, there's always a lot of complexity. There are different stakeholders and committees, codes and requirements, timelines, and contractors and trades. Although we certainly have our strengths in design customization and installation speed and quality, I think this is where we really shine with local government security projects like this: we're adept at working with all of the teams. We adapt our design so it can accommodate all of your other build systems. And we can make sure everyone knows what needs to happen when so it can all come together seamlessly."

TSS recently worked with Vantage Construction on just such a complex installation for government building security booths. This involved balancing architectural, functional, and budgetary demands, all while navigating a lengthy government approval process and the added logistic challenges created by evolving COVID-19 policies.

"We loved working with TSS," explains Jessica Tramontozzi, Vice President at Vantage Construction Corporation. "Their entire staff was very professional and they went the extra mile to give us guidance on what needed to happen with a custom ballistic barrier. We are thrilled with the end result—the new barrier system on the security booths looks like it has always been there."

Looking at starting a municipal building security project? Start out right with our free guide Five Key Components to Municipal Building Security Planning. Ready to get started? Contact our ballistic security experts with questions or a specific project.