BULLETPROOF AND BALLISTIC BARRIER FAQS
Get answers to frequently asked questions about ordering, installing, and maintaining bulletproof glass and bullet resistant barrier systems.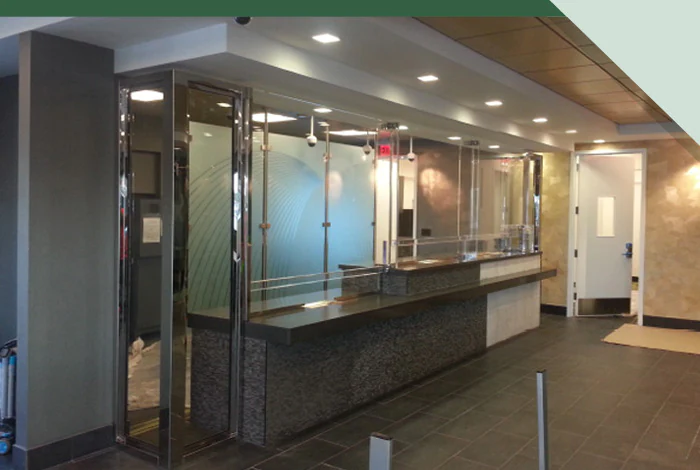 CHOOSING THE RIGHT BULLET-RESISTANT BARRIER
What is your most valuable asset?
Any discussion of "valued assets" must begin with your employees and staff. They are key to your success as a business, resources that are almost impossible to replace. Even if you can look beyond their value as human beings, as members of your business "family," they remain one of your most expensive investments. What's the cost of replacing them versus the cost of protecting them? What impact does that comparison have on your insurance premiums? What about the cost of negative publicity? Regardless of what you have in the vault or the cash drawer, your most valuable asset – and the one you can least afford to squander – is the welfare of your employees.
What is the best bulletproof material?
Six inches of lead sheathing or a foot of solid concrete is "bulletproof." But the realities of commerce dictate visibility and easy communication. There are many materials at our disposal that provide excellent stopping power against most common handguns, shotguns and rifles – acrylic, polycarbonate, laminated fiberglass – and they can be employed in ways that are almost invisible to the undiscerning eye. A barrier system designed and installed by an experienced company will provide high security and protection against most projectiles, without making your place of business look like a maximum-security prison.
What are the various "levels" of protection – what do they mean and what does my facility require?
Security levels for bullet-resistant systems have been established by UL (Underwriters Laboratory), the primary testing organization for materials used in these systems. Each level has been tested and found effective at stopping certain types of projectiles, ones most typically employed during an armed robbery."
My facility is in an area that has never experienced much crime? Why invest in a bullet-resistant barrier system?
There is little rhyme or reason for why an armed gunman chooses a particular facility, other than a preference for those with the weakest security. While certain areas of some communities are classified by local authorities as "high-crime, " that is no assurance that a bank, convenience store or gas station outside this area is safe. Furthermore, it's a harsh fact that many businesses don't install a bullet-resistant barrier system until after a tragedy has occurred. We advise being proactive on an installation of a bullet-resistant barrier system to deter criminals and prevent a tragedy.
How much confidence can I have in the various materials? Can a piece of plastic actually stop a bullet?
All our systems pass rigorous testing, often conducted by multiple standards agencies. All our materials are made to our stringent specifications, the most demanding in the industry. And as to the question of whether a sheet of transparent, 1″ acrylic capped on each side by a 1/8″ veneer of Lexan will stop a .357 Magnum jacketed lead soft point round or a .44 Magnum semi-wadcutter round; we've seen tests like this conducted many times, and the results are always impressive.
As a convenience store operator, daytime is busy and relatively threat-free. Nighttime is an entirely different story. What kind of system do I need?
This is a commonly-asked question. Simply stated, we can design a system that allows easy access during the daytime, when traffic is high and the threat is low, and a much tighter profile in the evening and early morning hours when the threat increases. The system is simple and easy to operate. We've designed many systems to offer this level of flexibility and safety.
Where is my order?
Estimated delivery dates are best derived from information provided by the freight company. When materials ship from the fabricating facility, Total Security Solutions will send an email containing a tracking number, as well as the Bill of Lading number from the freight company, to the contact identified on the order. Tracking information will be available after 5:00pm EST. For additional information on the status of an order, please contact your Salesperson or Project Manager at Total Security Solutions. Hours of operation are Monday thru Friday 7:30am–4:30pm.
I received the wrong size product. Who should I contact to get the correct product?
Please contact your Project Manager at Total Security Solutions.
There is a defect in the material received. What steps do I take to resolve this issue?
In order for Total Security Solutions to assist you in resolving this issue, please take a photo of the area containing the defect. For size reference, please include a coin next to the defect when taking the photo. Contact your Total Security Solutions Project Manager and email your photo for information on next steps.
The products I received were damaged during shipping. What steps do I take to resolve this issue?
In the unfortunate circumstance that you experience damage during shipping, please take a photo of the damaged products, as well as a photo of the crate in the condition it was delivered to your facility. Contact your Total Security Solutions salesperson or Project Manager and email your photo for information on next steps.
How do I file a claim for products damaged outside of shipping?
In order for Total Security Solutions to assist you in resolving this issue, please take a photo of the area that is damaged. Contact your Total Security Solutions Project Manager and email your photo for information on next steps.
How do I get started laying out the channel pieces?
You should have received an envelope, containing an installation packet, attached to the materials in the shipping container. Installation instructions are also available on our website for most applications. Installation packets are not project specific, however, since most setups are customized to each individual's needs. The installation packets serve as presentational guidelines only.
All pieces of channel have a handwritten number on the bottom side. Horizontal pieces will simply have a number, whereas vertical channel pieces will have a number followed by the abbreviation "vert". Starting from the far left (as facing from the customer side), the channel piece labeled "1" will be the first channel placed on the counter, followed sequentially by additional channel pieces until the channel butts into the right hand wall of the system.
How do I install a service counter?
To install a service counter, first verify the final opening size to the supplied counter. There should be between 1/8" to 1/4" tolerance between the final opening and the countertop. Place the counter in the opening and center within the space. Check for level and shim, if necessary. You should have received aluminum angle stock for the front and rear of the counter. Place these on the bottom side of the counter up against the wall and secure fasteners to both the counter and the wall. Caulk in any gaps as necessary.
How do I install a lockset?
Refer to installation instructions provided with the lockset.
How do I cut fiberglass, acrylic or polycarbonate?
Fiberglass, acrylic and polycarbonate can all be cut using a carbide tipped blade. For acrylic and polycarbonate, a carbide circular saw and router will be sufficient to do most field fabrication, as needed. The raw edges can then be sanded and either buffed out to an opaque edge or flame finished for a clearer edge. Fiberglass can also be cut using a carbide tip blade, either in a circular saw or a jigsaw. Pre-drilling holes at desired locations is recommended for fastening materials to a substrate. When cutting fiberglass, it is highly recommended to use both eye and respiratory protection since this product produces a large amount of dust.
I'm a glazier and I'd like to expand my business. Can you provide components that I could install myself?
Absolutely. Experienced glaziers can easily add a new dimension to their sales by offering installations of pre-manufactured bullet-resistant materials. Our specification and manufacturing process is set-up to easily accommodate your needs, and we can likely do it faster and more efficiently than anyone in the industry. We'll provide spec sheets for you to complete and cut, route, and drill to your measurements, or we can provide products in bulk for you to work with.
How do I clean my bullet-resistant products?
To clean aluminum stock materials, gently wipe them down with a cloth dipped in lacquer thinner. Acrylics and polycarbonates can be cleaned by using the provided 210 Glass Cleaner and a soft cotton cloth or micro-fiber towel. Additional 210 Glass Cleaner may be purchased through Total Security Solutions or you can also use a diluted solution of 5% Dawn dish soap to 1 gallon of water. Glass-Clad Polycarbonates can be cleaned using standard glass cleaning products with a non-ammonia base.
What causes fine cracks along the surface of acrylic and how can I fix it?
Crazing, or hairline cracks along the surface of acrylic, is the result of using improper cleaning chemicals on the acrylic. These chemicals release inherit stress in the material formed in the casting process. Crazing cracks cannot be repaired or reduced in appearance.
How can I remove scratches from the surface of acrylic?
Surface scratches are inevitable with acrylic. It is up to you as the end user, however, to determine if the repair on the acrylic will be of more harm than the scratch itself. Surface scratches can be buffed out from UNCOATED acrylic only. If there is any white coloring in the middle of the scratch, it is not repairable. It is possible to get it back to a clear opacity, but the scratch itself will still be visible.

Non-Profit Security Grant Process FAQs
TOP 10 FAQS ABOUT APPLYING FOR SECURITY GRANTS
1. What is the purpose of a security grant?
To fund activities and features that will help improve your building's security in order to protect the people inside. Generally speaking, these grants are meant for non-profit organizations (NPOs) that are deemed at high risk of a burglary, violence, vandalism or other criminal activity.
2. Who can apply for security grant?
Security grants can be applied for by a wide range of not-for-profit organizations including schools, houses of worship, and community centers, however, many donors have specific organizational requirements for applicants, be sure your organization type is acknowledged by the grant-making agency in the fine print.
3. What can security grants be used for?
Depending on the type of grant, funds could be used for but are not limited to: building renovation, security consulting, physical security features, emergency planning expenses, training for staff, or contracted security personnel. Physical security features might include bulletproof barriers, security window film, surveillance systems, improved lighting, fencing, access control systems, visitor management systems, or metal detectors. Most grants will outline acceptable and unacceptable items for funding.
4. What grants are currently available?
There are a number of security grants available to NPOs, sponsored by federal and state agencies as well as private companies and corporations. You should also periodically check out Grants.gov which is the U.S. government's central portal for finding grant opportunities. The portal is managed by the Department of Health and Human Services and allows users to search for funding opportunities by keyword. It is updated regularly to include newly released funding opportunities.
5. When should we apply?
We recommend that you start the application process as early as possible. It can take several months to complete your part of the pre-award stage of the grant lifecycle. NPOs applying for grants typically take weeks if not months to complete the entire submission process depending on the grant-making agency requirements. Non-profits need to have a DUNS number and a government SAM number in order to apply. It can take up to 4 weeks to obtain each of these numbers, so make sure you have them well in advance of your grant application deadlines.
6. How do we apply?
The first step is to know which grants are available, their respective deadlines and eligibility requirements. Next, you should get a Vulnerability/Risk Assessment from a local law enforcement agency for your building. Know that some grant programs require you to submit to a pre-qualification process before applying. Then you'll need to gather supporting documents, decide on what you'll be using the funds for, and write your submission. You'll need to apply by the deadline and check back periodically with the agency on the status of your grant application.
7. Can we apply for more than one grant at a time?
Technically speaking, yes, there is no limit to how many grants you can apply for at one time. However, there are some things to consider. It's important to discuss openly with funders the full scope of your project. Some awards will only be applicable to certain aspects of your project, while another funding opportunity could cover additional costs. If you are in a situation where you receive multiple grants for the same project and you have an excess of funding, you should discuss options with the funders for additional use within the wishes of the donor.
8. When will we hear back about our application?
The review process takes time and varies based on the grant type and the grant-making agency. Be sure to regularly check the status of your grant application by communicating with donor.
9. How should we decide what to spend it on?
Your vulnerability/risk assessment will help determine your threat profile and any security gaps in your current protocols and your environment. The results of your assessment can help you start making decisions about the necessary security enhancements to fund. That said, most organizations focus on three key areas: access control, training, and physical features to protect their organization.
10. Should we hire a professional proposal writer?
Some of the pros to hiring a professional proposal writer are that your application will get submitted on time and that you may be able to find a specialist who has experience securing funding for non-profits. The cons are additional costs and the fact that while your writer may be a specialist in non-profits, they're not a specialist on your organization. An on-staff writer will always have more institutional knowledge about why your organization is deserving of the grant and can often make the most compelling case. That said, if no one on your team has the bandwidth or the writing skills to get the work done, you may have to hire outside help.