Custom-Designed Bulletproof Barrier Systems
TSS specializes in end-to-end consulting, design, fabrication, and installation of custom bullet-resistant barrier systems that deliver Safety + AestheticsTM.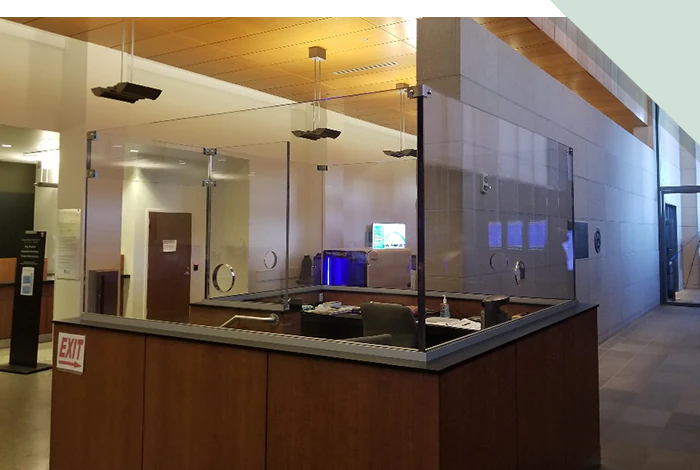 Custom Design Consulting
We are your full-service ballistic barrier consulting experts and the only bullet-resistant manufacturing company with sales, engineering, project management, fabrication, and installation teams in-house.
The earlier you connect with us, the better we can help with:
Idea-generation
In-depth assessments
Expert advice on materials and products
Installation
TSS offers solutions for retrofit and new construction. Because we custom engineer and fabricate our products in-house, components will be made to meet your specifications and deliver both Safety + Aesthetics™.
Our Unique Capabilities
The ballistic experts at TSS have refined decades of combined experience into a proven process, taking a project from the earliest stages of initial assessment and design all the way through to the final installation. We continue to evolve as technology advances, ensuring a level of expertise unmatched in the industry.
Our skilled craftsmen specialize in:
Custom design and fabrication
In-house engineering
CNC, water jet, and millwork
Complete turnkey solutions
Full-service nationwide installation
TSS proudly produces systems that blend seamlessly with your existing environment. Our extensive capabilities in designing and manufacturing bullet-resistant solutions provide options you might not have considered possible. From adding custom ballistic glass to existing doors or counters to drape-forming acrylic into specific shapes even before fabrication, we create and deliver the solutions to fit the job at hand.
Transaction Lines
Total Security Solutions can create custom, bulletproof barriers to protect employees in transaction-centered workplaces.
Safe Rooms
Safe rooms are an integral piece of a comprehensive security plan for offices or facilities where an assailant may gain access to interior spaces.
Entryways
You need your entrance to function, be aesthetically pleasing, and be the first line of defense for your facility.
Reception Areas
You need your business's front desk and reception areas to both meet aesthetic expectations as well as protect your people.
Guard Booths
A ballistic booth is the best way to keep your security team safe so they're able to perform their protective duties at the highest level.
Reach Guards
Our reach guards help you deter visitors from accessing certain secure areas in your workspace. Popular with financial institutions and other businesses with busy reception areas.
Your Trusted Partner in Ballistic Design, Manufacturing, and Installation
Total Security Solutions is a trusted consulting partner for solving bulletproof design and installation challenges.
Completing a custom project requires an experienced team for fabrication, shipping, and installation. At TSS, we consider every detail and coordinate every step so your new bullet-resistant system is safely delivered and installed with the least disruption to your day-to-day operations, with the fastest and most efficient turnaround possible.
The Total Security Solutions team has delivered over 20,000 jobs. Let us help you with the planning, design, and installation of your next project. Talk to one of our ballistic experts to get started.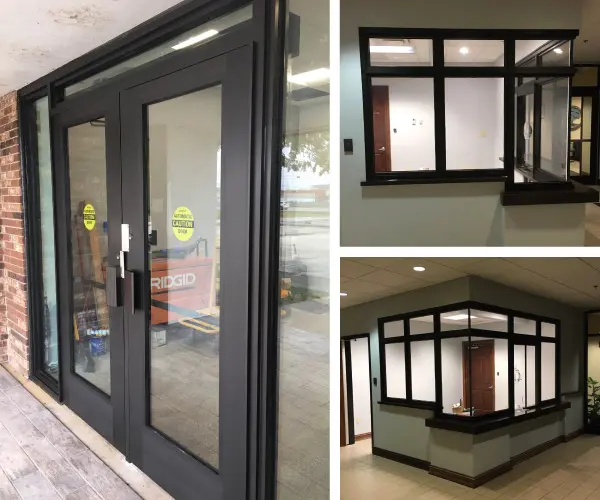 Need help finding the right solution
for your project?
Get free advice from our ballistic experts.
We specialize in assessing each project on an individual basis, so our solutions are truly customized to meet the task at hand; our work is all about finding the right solution for each unique situation.
Jim Richards
Total Security Solutions CEO
Total Security Solutions provides custom-designed solutions beyond basic product manufacturing, delivering a completed bulletproof installation as unique as your company. Our team plans and fabricates systems that are envisioned by architects, engineers, and facilities professionals, applying technical proficiency from conception through installation. We specialize in custom ballistic systems with the goal to create a barrier that combines Safety + Aesthetics™.